When people ask me why I love Tokyo, the answer is simple 'I love the fact that there are so many weird and unique things to do there,'
For example, not only di someone once say 'let's put a giant Godzilla head on the top of a hotel in the middle of Shinjuku – and then make it roar' – someone else said yes! That fills me with glee.
And what this means is that there are literally hundreds of unique Tokyo experiences to write about. Don't worry, I'm not going to cover them all here – but I will cover some of the best.
Because you probably don't want to be reading this for the rest of your life, I'll divide my list of unusual things to do in Tokyo into four sections.
Cute Things to Do in Tokyo: If you're looking for the most kawaii things to do in Tokyo, this is where you'll find them. Expect lots of animals.
Weird Things to Do in Tokyo: The absolute oddest things to do – and in a city full of weird stuff that's saying something.
Quirky Things to do in Tokyo at Night: The oddest bars and other 'after dark' activities.
Totally Unique Things to Do in Tokyo: These are things that have a very Japanese slant to them and as such, you won't find them anywhere else.
I'll be as descriptive as I can, but so this doesn't turn into a guidebook, where I've written a bigger post about a subject I'll link to it so you can find more details. Right, let's get started…
Disclosure: Some of the links in this post are affiliate links which mean I earn a small commission if you use them to book. This does not cost you any extra.
Cute Things to do In Tokyo
Bite the Head off Totoro
You'll find heaps of Studio Ghibli stores in Tokyo, but only one cafe sells Totoro Puffs – little pastry versions of the round one filled with custard.
Heartbreaking as it was to bite his head off, he was delicious.
Find him at the Shiro-Hige Cream Puff Factory 5 Chome-3-1 Daita, Setagaya, Tokyo 155-0033, Japan
It's near the super-hip vintage area of Shimotokawaza.
Feed an Otter
Harry's Zoo Cafe Harajuku lets you play with all sorts of cute animals – but the stars are the cheeky otters.
When the cafe first opened you could cuddle the otters but they got a bit boisterous and so now you just feed them through the little holes in the side of their pen.
Watching their little paws come out to grab a treat is beyond adorable.
Find the details of all the Harry animal cafe's here.
You need to click on the picture for Harajuku Terrace if you want to find the otters.
Have Dinner Delivered by Train
Many countries now have sushi trains where the food revolves and you pick up whatever takes your fancy – Tokyo, however, has sushi trains where the food is actually delivered on a tiny replica of a bullet train!
There's a whole chain of these called Sushi Go Round, but if you want to find out the ones I visited, check out this post on Tokyo's best quirky sushi bars – including one staffed only by women which in itself is a unique thing to see in Tokyo as most sushi chefs are men
There's also a curry restaurant that delivers dinner by locomotive – it's called Naigara Curry and it's very close to Shibuya.
Cuddle a Hedgehog
Hedgehogs cafes have become a huge trend in Tokyo.
I've been to a few and the best ones include Harry's Cafe which has branches in Harajuku and Roppongi and Chiku Chiku in Shibuya where the hedgehogs live in rooms decorated like tiny dollhouses. Squeeeeee,
Get Coffee Made by a Robot
Sawyer, the robot barista works behind the counter of the Henn a Cafe in Shibuya. And he'll whip you up a latte or a hot chocolate if you fancy one.
Find him at Shibuya MODI, 1 Chome-21-3 Jinnan, Shibuya, Tokyo 150-0041, Japan – and, if meeting a robot is on your list of things to do in Tokyo, then visit this post to find out eight more places to find one.
Order a Pig Ice Cream
Dobetuseun The Zoo Ice Cream in Harajuku sells the cutest animal ice creams.
If pigs aren't your thing they also have bunnies, koalas, elephants and other cute stuff.
Find them at 3-20-7 Jingumae, Shibuya-ku . They are open from 11am to 7pm.
Spot a Dog in a Pram
I'm not sure dogs in Tokyo actually walk I saw so many of them in prams – but it's super cute so I'm going with it.
See also spot dogs in dresses,
Visit the Street Dedicated to Cats
If feline furries are more your thing, take a trip to Yanaka Ginza.
Yanaka is an older part of Tokyo and over time families of stray cats have made it their home.
Rather than throwing them out, the locals embraced the idea and you'll now find all manner of cat-themed cakes, sweets and gifts to buy on the street.
My favourite were these cat-shaped taiyaki from Maneki-ya 3 Chome-9-15 Yanaka, Taitō-ku, Tōkyō-to 110-0001, Japan.
These pastries filled with a kind of red bean paste are normally shaped like fish, but this is way cuter.
Keep Your Eyes Peeled
The Japanese ability to add a touch of cute to anything is quite amazing.
Why would you use normal cones to close off an area when you can use ones with flowers on – or can use tiny little giraffes to create a barrier?
And why wouldn't your fire station have a cutesy ant mascot in a fire hat? Or your manhole have little firemen on it.
Keep your eyes peeled for all the kawaii things in Tokyo and you won't be disappointed – even the most boring seeming places like roadworks and building sites can have a kawaii touch about them.
If you have no idea what I just said, kawaii is the Japanese word for cute.
Discover the Owl Building
Ikebukuro in Tokyo has a bit of a thing about owls – you'll find statues of them dotted around the place. But the best has to be the police box that looks like a giant owl. You'll find it at 1-27-7 Minami-Ikebukuro.
My picture of it was sadly rubbish, so if you want to check it out before you visit, here's a picture and a list to find the rest of the Ikebukuro owls.
Weird Things to Do in Tokyo
Ride Round in Go Kart in Fancy Dress.
I couldn't take about the unusual things to do in Tokyo without mentioning probably the most popular unique activity there is in the city. Mario Kart.
Despite the fact that Nintendo is not happy about it and that a few people have crashed their carts, Mario Kart is thriving.
There are heaps of companies in Tokyo offering the Mario Kart experience and you can ride around everywhere from Shibuya to Odaiba. I haven't tried it as me+driving=really bad idea.
Check availability for one of the main tours here
Visit a Maid Cafe
I actually didn't realise I was going to do this until I walked in. See at one point I was planning a train-themed post and I had heard about a train-themed cafe called Little TGV in Tokyo's Akihabara that served cocktails named after stations and omelettes shaped like little train carriages.
It was only when my friend Kendall and I walked in that we realised we were the only other women in there and every other customer was a single man!
Still, the waitresses were lovely and we had fun – they even let us wear their hats!
Buy a Banana From a Vending Machine
Japanese vending machines are amazing – but the banana vending machine is my favourite of the bunch (boom, boom).
You'll find it by exit three of Shibuya station, but check out this post for the exact location as it can be a bit tricky to find.
Visit the Ghibli Clock
This steampunk-inspired clock is just hiding behind a corner close to Shiodome Station – and four times a day – noon, 3, 6 and 8 and 10 am at weekends – it performs!
Collect Tiny Plastic Toys
You'll find machines dispensing these all over Tokyo. And, in areas like Akihabara, you'll find entire stores filled with such machines.
They spit out a capsule containing a tiny plastic toy. The toys come in sets and guess what, you've got to catch them all.
Oh, hang on. mixing up my pop cultures there.
If you want to find out more about Gachapon, check out my guide to it here including where to find Tokyo's best Gachapon machines and some of the fun sets to collect.
Play at the Trick Art Museum
Trick Art Museums use trick imagery to insert you into some 3D paintings and while they are in lots of cities now, visiting the Tokyo Trick Art Museum is a great introduction to the idea because everyone around you is having an absolute blast – not just the kids.
The Museum is in the Decks shopping mall in Odaiba – check out the full details here.
Visit the Geek Shrine
If you've ever spent a day praying that your hard drive has actually backed up your entire life's work (or is that just me), then you need to add a trip to Kanda Myojin shrine in Akihabara to your Tokyo to-do list.
The shrine is actually the oldest in Tokyo and one of the busiest during the blessing ceremonies that take place on New Year's Day, but its location near geek mecca Akihabara means it's taken on a secondary role as a place to bless your electronics – the priest will even do a little ceremony over your laptop if you ask,
Also, watch out for the Shrine pony who is there in case any gods want a lift from A-B. We w ere lucky enough to spot him on his Sunday afternoon outing.
Bath in Wine
Yunessen is basically a hot spring theme park. You can bath in vats of green tea, wine, coffee and more.
Unlike traditional onsens in Japan at this one, you get to wear swimwear and both genders can bathe together.
It looks like heaps of fun and I'm desperate to go but the last couple of trips I've been on my own and this looks like something you need to try with others – but you'll find it at Hakone a short train ride away from Tokyo.
Hakone also has a pirate ship and eggs cooked in a volcano, so it's definitely worth a quirky day trip.
Find out more about Yunessen and buy tickets in advance here.
Check the Peeing Boy – and his Outfits
If it's not strange enough that the end of the Hamamtsucho metro station in Tokyo contains a statue of a peeing child, the fact that a mystery person dresses it up in little outfits is enough to add it to your list of weird things to see in Tokyo.
Touch the Fluffy Duck Butt of Sugamo
Many areas of Tokyo have their own mascots – and in Sugamo, a place best known as where Tokyo's seniors love to shop, their mascot is a super cute fluffy duck called Sugamon.
You'll find pictures of him on the shops, goods covered with pictures of him in the shops – and, in a little shed at the end of Sugamo's main shopping street, you'll find a giant fluffy representation of his butt to stroke for luck!
Yes, of course, I did!
Check out this post on Sugamo, if you want to find out exactly where to find him -and about the other cool things in this amazing area of Tokyo.
Visit a Parasite
If you've ever wanted to spend your holiday checking out a tapeworm, the Meguro Parasitological Museum is the place to go.
They have 300 specimens of them on show.
Find at it 4-1-1 Shimo-Meguro, Meguro 153-0064, Tokyo Prefecture – it's fairly near Shibuya,
Visit Namjatown
If you really want to blow all your senses in one indoor experience, this 'theme-park' in Ikebukuro is the place to do it.
I have absolutely no idea what's going on in any of it.
However, you can ride rides, you can have your photo taken with a giant plastic cat and you can eat some of Tokyo's most instagrammable desserts.
It's like every stand in there is trying to outdo the others with how amazing they can make sweet stuff look.
It also has a dumpling theme park containing gyoza from all over Japan – go hungry.
Get a better feel for what its all about here – but honestly, nothing prepares you for the overload inside!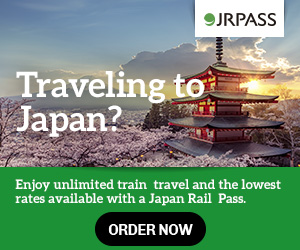 Quirky Things to do in Tokyo at Night
Drink With a Monk
For some reason, there are a lot of monks that own bars in Japan.
Two I know about in Tokyo are Vowz bar in the far east of Shinjuku (6 Arakicho, Shinjuku, Tokyo 160-0007, Japan) and Not Suspicious in Golden Gai – which is also famous as you can leave your mark with a note on the walls.
Go and See Godzilla Roar
Tokyo is very proud of its scaly, building-destroying monster.
Most notably, his head sits upon the Shinjuku Gracery Hotel, and, every hour from noon to 8 pm he roars! There's also smoke and lights.
If you love Godzilla, Tokyo is full of ways to pay homage – from desserts to statues. Here's a full guide to them all.
Visit a Bar Full of Vibrators
Vibe Bar, The Wild One in the middle of Tokyo's Shibuya, is not for the easily shocked, but that doesn't mean it's at all sleazy. In fact, men can't go in there unless they are with a woman – and even mixed groups must have more women than men.
The whole idea of the bar is to get people used to adult accessories and the place is full of them.
Entrance costs 3000 yen and you get two drinks with that. You can stay for 90 minutes.
It's open every day but Sunday from 5pm and it's pretty small so you might want to book online. The site is in Japanese but it translates really well.
Don't miss the toilet!
Have a Zima
If you have no idea what Zima is, it's official definition is a 'clear malt beverage' – it's alcoholic, not sweet, not bitter, not sour and tastes like nothing else anywhere. And I love it.
Any American's reading this will be looking aghast right now, as Zima is actually American, but it's got a bad image in the US (think Hooch in the UK or Fosters in Australia), but the fact that Japan still sells Zima is another reason it's my favourite place.
They marketed it totally differently in Japan and even men are seen drinking it!
You'll find it in some bars, or, you can buy it in convenience stores to take back to your hotel room.
Behold the Robot Restaurant
(Right now – Nov 22 – the Robot Restaurant has closed, but, I have great faith that they will return so I'm keeping it in here ready for when it does!)
This Shinjuku restaurant has become one of the must-do things to do in Tokyo at night – and it's insane!
Girls ride robotic crabs, there's glo-sticks a go-go and dancers with drums.
It's also insanely popular so book your tickets well in advance.
Admittedly, the food leaves a little bit to be desired so don't expect a gourmet dinner.
Be Entertained at Kagaya
If your ideal night out could be described as 'wacky', this is going to be your most fun ever!
Kagaya's owner Mark dresses up in weird outfits and serves drinks in odd comedy routines that represent the country from which they came.
You order by the medium of song and don't actually know what you're eating until it arrives on your plate.
Expect audience participation/humiliation.
I have to admit, this is my idea of an absolute nightmare – but people do seem to absolutely love it,
It's super small so book in advance. Here's where to find the number you need to call.
Watch TV
No, I haven't gone mad – I was walking about 20km a day during my first week in Tokyo on my last trip and so by 6 pm most nights, all I wanted to do was lie on my bed with my feet out of my shoes.
This gave me plenty of time to watch Japanese television – and, well….
One night I was watching a game show which seemed to consist of a man dressed as a bug, running around the countryside with a net, catching insects which his family in the studio (also wearing bug outfits) then had to identify.
Seriously, you can have a hilarious night in watching Japanese television.
Have a Cheese Cocktail at Mixology Experience
Kumquat and Cream Cheese or Blue Cheese and Pear might not sound like obvious ingredients for a cocktail – but that's the point of this Roppongi bar that prides itself on surprising your taste buds,
My friend Kendall firmly recommends the Chocolate Miso Martini.
There are four branches of Mixology around Tokyo, find the addresses and the full menu here.
Drink the Frothiest Beer Ever
If beer is more your thing, then you'll find it served in most restaurants – but expect to find it looking a little different from what you might be used to.
The Japanese like to serve their beer with a LOT of froth – apparently, they think it means the beer is fresher and actually taste the froth rather than grimacing at it as a waste of hard earned cash and asking the bar person to top it up a bit.
Do not do this in Japan!
Totally Unique Things to Do in Tokyo
Visit the Temple of Waving Cats
You've probably seen these little white cats before – but nothing will prepare you for the sights of thousands of them in one place.
The temple is called Gotokuji – and you can reach it from the station of the same name.
Party by the Cherry Blossoms
If you're in Tokyo toward the end of March and beginning of April you may be lucky enough to catch the cherry blossom season where the beautiful pink blossoms bloom all over the city,
Traditionally though, people don't just admire the flowers – they take picnics and sake and have parties known as hanami.
Check out this post for a good guide to the best cherry blossoms in Tokyo.
Stand up to Eat and Drink
The first time I went to Tokyo this blew my mind – a lot of bars and restaurants charge you to sit down and so you'll find standing bars and standing sushi bars all over town.
This bar is in the back streets of Shinjuku – but don't ask me exactly where as I've not been able to find it since.
I also went to a stand-up sushi bar close to Tsukiji market called Sushi Cyoh. There's another one in Shibuya.
Get Naked With Strangers
Soaking your cares away in an onsen is a Tokyo-must do – but you do have to strip off completely to do it.
The first time I went to an onsen I was terrified, but after about 10 minutes I realised no-one cared what I looked like.
There are small onsens/sento all over Tokyo but the one most geared to tourist is Thermae Yu in Shinjuku. If you have tattoos, you'll need to hide them.
If you'd prefer to spend more than a day getting naked with strangers, you might want to stay in a hot springs hotel when you're in Japan. This is kind of like staying in a ryokan with its traditional Japanese style rooms, but a lot less formal. Here's where to read more about why we think a hot springs hotel is a great alternative to a ryokan.
See a £180 Melon
Most Tokyo department stores have an amazing food hall in their basement – and if you're a foodie, wandering around one of these has to go on your list of top things to do in Tokyo.
While you're down there though make a beeline for the fruit aisle where you'll find the most expensive fruit you've ever seen. Yes, that one on the top right really does cost nearly £180.
Stand in the Longest Disney Queues Ever
The Japanese love a queue – and nowhere else will you see this better than Tokyo Disneyland and it's sister park DisneySea.
On a busy day, people will happily stand in line for 2-3 hours for a ride and a recent Mickey Mouse anniversary saw lines of up to 11 hours!
Does this mean you shouldn't go to Tokyo Disney? Absolutely not. But you have to be prepared and organised especially if you are going at a super busy time like Golden Week when much of Japan goes on holiday.
You'll find crowd calendars online to work out which day in your trip is likely to be least busy and ideally book your tickets in advance to reduce at least some queuing time at the gate.
And just treat it as part of the fun.
Oh, and if you are travelling in Golden Week, check out my guide to Tokyo in Golden Week over at Differentville's sister site Japlanese for a few more tips that might help your trip go more smoothly.
Stay at a Hotel Staffed by Robots
Henn-a Hotels are now springing up all over Tokyo – including in upmarket Ginza and super central Akasaka.
You'll check in with a robot receptionist and have your own little robot butler in your room to sing you to sleep.
Find Your Favourite Train Tunes
Spend enough time riding around on the Tokyo train station and you'll soon notice something – as you arrive into each station the trains play a tune.
And each station has its own little ditty.
Some of my favourites include them playing Take Me Out to the Ball Game as you arrive at Korakuen station (Nambuko line) which is the closest station to the Tokyo Dome ballpark – and the Astroboy theme tune that gets played at Takadanobaba where the cartoon's creator was born.
If that last bit made you squeal, also head outside Takadanobaba station where you'll find two huge Astroboy murals.
Eat from the 7-11
In most counties this would be a thing not to do – but, Japanese 7-11s are rather like Japanese vending machines, strange magical places of wonder.
You can find all manner of exciting things there, but if I had to tell you to try one thing and one thing alone, it would be the egg sandwiches.
I don't know what they put in them, but they are the best egg mayonnaise sandwiches anywhere in the world. Ever.
Watch the Yoyogi Dancers
Every Sunday afternoon in Tokyo's Yoyogi Park, a group of rockabilly set up a little dancefloor and groove the afternoon away.
They take it very seriously but are amazing to watch.
Play With a Toilet
If you don't know why this is – trust me – once you see one you'll understand.
Measure your Hand Against That of a Sumo Wrestler
The Ryogoku area of Tokyo is home to the Sumo Museum, the main Sumo stadium and many sumo stables where wrestlers train and as such it's also full of sumo memorabilia.
Including a statue just down the road from Ryogoku station that lets you measure your hand to that of some of the greats of sumo.
Wandering around by the stables in the morning also gives you a chance to see some of the guys up close and personal.
Go to Tokyu Hands
Talking of Hands
You'll find branches of this store all over Tokyo, although the one in Shibuya is among the biggest. It sells everything you didn't know you needed and more.
The beauty department has some of the oddest things ever like nose reshaping devices and bath salts for your blood type.
You'll also discover how many calories you burn climbing up the stairs as its marked on them.
Don Quixote is another retail temple of madness that needs to be seen to be believed. Warning – its less family-friendly than Tokyu Hands.
Eat an Apple Kit Kat
Or a green tea one or a wasabi one or a banana one.
Japan loves a Kit Kat and as such you'll find a variety of flavours here that you won't find anywhere else in the world.
The specialist store is the Kit Kat Chocolatory in Ginza (3 Chome-7-2 Ginza, Chūō, Tokyo 104-0061, Japan), but you'll also find packs of small KitKats in the oddest of flavours in most pharmacies or supermarkets.
Buy Some Plastic Food
Outside many restaurants in Tokyo, you'll find a window full of replicas of the food they serve inside – made from plastic.
It's a great way to see if there's something you fancy on the menu – but also comes in handy if there's no English menu. You can just point at the one that looks nicest.
However one of the most fun things to do in Tokyo is to wander up and down Kappabashi Dori, the road in which the shops that make the plastic food are found.
They really are mini works of art. For more details of where to find the best example – and a heap of other cool things to do nearby in the Asakusa area of Tokyo, check out this post.
Yes, I have even more weird things to do in Tokyo that didn't make it into this one! In fact I had so many unusual things to do in Tokyo that I didn't quite make it to this time. I can see this post getting way longer over time. Watch this space.
Oh and if you liked this post and are also going to Kyoto on your trip, why not read our guide on Unusual and Non-Touristy Things to do in Kyoto as well.
---
Who Writes Differentville?
My name is Helen Foster and I'm a journalist and author living in Sydney.
My travel articles have been published in titles including The Australian, Body & Soul at the Sunday Telegraph, RAC Horizons, Jetstar magazine and more.
I like the weird, the wonderful and anything that makes me jump and down with glee like I'm about three. That's what you'll find here.
Disclosure: Some of the links in this post are affiliate links which mean I earn a small commission if you use them to book. This does not cost you any extra.
Sharing is Caring
If you liked this post about the most unique things to do in Tokyo then why not share it on social media so other people can add some weird ideas to their holiday too.