It's Saturday afternoon in Tokyo. A few miles away from where I am now, hundreds of people are wending their way across the iconic Shibuya crossing, or queuing up for the latest rainbow cheese sandwich in Harajuku – but where I am, you'd never know any of that existed.
I'm in a place where there's no traffic, the only sound is classical music playing quietly in the streets – and virtually everyone around me is over 70.
Welcome to Sugamo. Where Tokyo's seniors like to shop, a place to buy the best sweets and traditional goodies and home to Sugamon the duck and his lucky fluffy white butt!
See I told you you wouldn't want to miss it!
Where is Sugamo in Tokyo?
It's located in northern Tokyo, pretty much midway between hip hangout teen Ikebukuro and Komagome, home to one of Tokyo's most famous gardens.
You can get here on the Yamanote line that circles Tokyo. alighting at Sugamo station, but I came in from Koshinzuka, slightly north of this, on a piece of history – the Toden-Arakawa streetcar line.
This is the last streetcar line to run through the streets of central Tokyo and while it mostly now uses modern trams, I was lucky enough to be on one of the older trams that still work the route and was the only obvious tourist on the tiny one carriage wood-lined tram as it wound its way through the backstreets of Tokyo.
Alighting at Koshinzuka station, I soon saw the huge metal arch that signified Jizo Dori – the 800-metre long shopping street that makes up the heart of the 'action' in Sugamo.
Exploring Jizo Dori
As I walked into it, I entered another world.
See, Sugamo is where the local seniors come to shop and catch up with their friends. And as such it's like nowhere else in Tokyo.
The first thing I notice is that soothing, classical music playing around me, then to my right, I see four chairs parked outside a shop with four old ladies sat upon them having a chat.
As I look ahead of me, I realise tables and chairs are dotted all along the road, which is closed to traffic on a Saturday afternoon – and lots of people are using them to have a rest and catch up with friends.
The street is completely flat, perfectly paved and there are no high curbs to get in the way of the sticks, wheels or slightly shaky footsteps of many of the people wandering up and down it.
The whole atmosphere feels sedate. No-one's rushing, everyone is taking their time to do their shopping and compared to the rest of Tokyo, it was amazingly calming.
The shops know their market well. If you want to find a chemist selling Salonpas heat patches, an outfit with an elasticated waistband, a pair of sensible lace-ups, or a new sun hat, this is the road for you.
There's even a local sanburo, a place where you can be buried up to the neck in hot sand to soothe away aches and pains.
My favourite, 'only in Sugamo' touch, though came at the end of the street where the local doctors had set up Saturday afternoon surgery.
There were about six stands each marked with a picture of a body part like bones and hearts, signifying, I guess, the speciality of the doctor behind the counter. Elderly folk were going for a quick consultation – and it was doing a roaring trade.
A Place for Sweets and Treats
Mobile medical services are not Sugamo's main claim to shopping fame though – it's better known for family-led stores selling speciality recipes that have been in their families for years – particularly a type of gooey rice cake known as Shio-Daifuku filled with bean paste.
A store called Mizuno is apparently the place to go for these – look for the red, white and blue stripy awning – and the big queue.
You'll also find shops selling rice crackers, treats like sweet potatoes in toffee, sticky mochi balls, traditional hard candies with tiny faces in them and, a store named Kifokudo that's been here since 1923 and was, reputedly, the first shop in Tokyo to make anpan, a type of bread with red bean paste inside.
There are also heaps of goodies I'm not quite sure about like the tasty treats below.
This sense of tradition that comes from these old shops is one reason why Sugamo is so popular with seniors – the other is the temple you'll find about halfway down the road.
Koganji – A Temple to Tackle Your Aches
As you turn off Jizo Dori and onto the paved walkway that leads up to Koganji temple, you'll see an entry arch, a traditional bower containing a smoking cauldron and a larger temple building in front of you – and then, off the left, a big queue of people. This is where you'll find Koganji's secret weapon.
It's a statue which, legend has it, cures pain. You wash the statue from the water that surrounds the base and then wipe the water away with a cloth. Now place the cloth on the part of your body that ails you and it's said it will help reduce any aches.
Whether it works or not I can't tell you as the day I went the queue to visit the statue was about 20 deep – and ironically, I'd walked so far that day my feet were hurting so much, I couldn't face standing in it (although it would have been a pretty good test I guess).
Admittedly, I could also have tried wafting the smoke from the huge metal drum in the courtyard onto my feet as, sending that toward the part of you that hurts is also said to help, or, bought a healing sticker from one of the temple's many shops but instead, I just soldiered on. I suffer for this blogging lark you know.
What's With All the Undies
As you walk down Jizo Dori, something stands out somewhat among the calm, sedate ambience of Sugamo – there's a lot of bright red clothing around here.
Specifically, there's a lot of red underwear – red socks, red nighties, red bras, red knickers – A LOT of very large red knickers.
Why again goes back to tradition. It's believed that wearing red next to the skin is good for energy and vigour particularly for older folk – and so the nana's come here to stock up on their lucky red undies with entire shops devoted to them.
If you're in Japan in the middle of winter and need to stock up on some thermals (and fancy those with a bit of a Santa vibe), you now know where to come!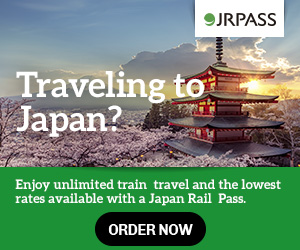 The Best Day to Visit Sugamo
Top Tip: While I went to Sugamo on a Saturday afternoon, if it's possible, try and time your trip for a day in the month with a four in (ie the 4th, 14th or 24th), as on these days the street is lined with traditional market stalls selling everything from bonsai to tea made from ground snake!.
The red underwear isn't the only slightly strange thing about Sugamo though. You can't leave without visiting…
The Fluffy Duck Butt of Sugamo
In Japanese Sugamo means 'ducks nest' and as such, the area's mascot is a white fluffy duck called Sugamon.
He's rather adorable and you'll find him everywhere.
He's on the post boxes and on signs which signify what shops or restaurants are selling using his little ducky features. You can buy cookies and pudding with his face on, socks with his face on, tiny little fluffy ducks to cuddle – they love him.
But, the piece de resistance is to be found right at the southern end of the shopping street – a giant fluffy Sugamon butt, just waiting for you to pat it,
Apparently doing so ensures a healthy old age.
He even has his own little ema – wooden tablets for people to write their wishes on. As I gave him a stroke, I realised Sugamo was probably the highlight of my whole Tokyo trip. And, if it wasn't for my pesky feet, I'd loved to have explored even further but my hotel room and a hot bath were calling.
I left Sugamo with a huge smile on my face. As the classical music faded and I walked past the local Elvis cafe playing Don't Be Cruel it was as it was leading me into the more modern Tokyo that lay ahead. I was actually quite sad to go.
---
Who Writes Differentville?
My name is Helen Foster and I'm a journalist and author living in Sydney.
My travel articles have been published in titles include The Australian, Body & Soul at the Sunday Telegraph, RAC Horizons, Jetstar magazine and more.
I like the weird, the wonderful and anything that makes me jump and down with glee like I'm about three. That's what you'll find here.
Sharing is Caring
If you liked this post, why not share it on social media. The fluffy duck butt will always stay white if you do