A restaurant totally staffed by women shouldn't really make it onto a blog about the slightly quirky things to see in the world – it sounds pretty normal; but when it comes to making sushi in Japan female chefs are extremely rare – which makes Nadeshico, Tokyo's first all-female staffed sushi restaurant, worth a visit (and it's not the only unique sushi bar we found).
Disclosure: Some of the links in this post are affiliate links which mean I earn a small commission if you use them to book. This does not cost you any extra.
Visiting Nadeshico
2023 update: Nadeshico have closed the original branch in Akihabara. They have new premises, but haven't announced the address yet as I update this in January. Check their website for the latest details.
Nadeshico Sushi (spelt Nadeshiko Sushi in some articles) is in Tokyo's Akihabara, best known for it's geeky, nerdy culture. If you want to find the latest video games, buy anime figures or, bless your computer equipment at the shrine made for that very purpose, this is where you come.
It doesn't seem the obvious choice of venue for a restaurant empowering women and it takes me a few minutes to work out exactly where on the road it is, but after climbing the stairs to the second floor of an otherwise fairly non-descript building – we're greeted by a smiley face and a cheery 'Irasshaimase' from one of the two women in flowery yukata and headscarves behind the counter.
The fact that they are wielding really sharp knives tell me we're the right place.
A Brief Background Re Female Sushi Chefs In Japan
The idea that women can't make sushi is a long-held belief in Japan.
The theory, and don't shoot the messenger here, is that you need cold hands to work with raw fish and sushi rice and women's hands are too hot to do it.
Another reason given is that women wear make-up (or have hormones) which distort their sense of smell.
The fact that male sushi chefs regularly run their hands under taps to cool them (and that women could do the same) and that make-up is technically not obligatory, seems to be ignored here.
Fact is, in most sushi restaurants in Japan, you're going to be served by a man.
Nadeshico turns all of this on its head. From the pretty pink 'welcome' mat to the floral outfits of the staff, it's pretty girly in there.
Admittedly, when Nadeshico first opened in 2010, there was criticism that it might be a bit too cutesy and girly. There was debate whether if in fact, it was basically a maid cafe with raw fish.
Back then the sushi came shaped like pandas, the women employed were only ever young and pretty, and there was a list of rules that meant you couldn't take photographs with the staff or ask them questions.
The women themselves may have moulded the fish and the rice together, but they didn't actually cut, gut or buy the fish – there was a couple of guys at the back doing that.
In the last eight years though things have evolved and now the women do everything
Follow manager Yuki Chidui on Instagram (@nadeshicosushi) and you'll be as likely to see her posting pictures at the fish market (she cycles to the market every day on her bike and likes to take pics of the fish with a tiny seal keyring she carries) than of the beautifully presented dishes she makes as a full on female sushi chef.
The cutesy panda presentation has also been overtaken by something far more stylish.
The tempura we ordered looked beautiful and I admit, I took a bit of a liking to the plaited sardine on the sushi platter – I'd now like all of my raw fish to look like Elsa's hair braid thank you.
Male chefs, sort your lives out and get weaving!
We also didn't see any single men staring in awe while the girl of his dreams chopped tuna.
We visited for a late lunch on a Sunday and about half the chairs in the small 17-seater restaurant were full. Half was a party of Japanese men, the rest were foreigners.
Knowing they have an interesting story that's got a lot of international attention has made Nadeshico one of the places to eat in Akihabara and it's well geared up for foreign clients.
The menu comes in English – and there's a handy drawn version that just tells you how many of pieces of sushi you can get in a set so you know which will best suit your appetite.
We chose sushi, sashimi and a small tempura set between two of us.
The women working there seem to be enjoying their chance to shine – they speak English and like to chat – and there's a lot of laughing going on.
Admittedly, a quick look at their recruitment page does still specify to work there you must be aged 18-35!. But hey, I guess you can't change everything at once!
Where to Find Nadeshico Sushi in Akihabara

.
If you want to check out Nadeshico yourself, it's official address is the second floor of the Chichibu Denki building in Akihabara or Chichibu Denki Building 2F, 3-12-15, Soto kanda, Chiyoda-ku if you want the full thing.
Thankfully, it's marked on google maps, but I admit, I couldn't find it immediately when I got there as there's no obvious sign over the door and the billboard they normally place in the road wasn't that far out.
Basically, it's just before the row of vending machines outside the chemist on the corner of the street. Look for this door here then head to the second floor!
Expect to pay about 3000 yen for a regular sushi platter, our regular tempura was 2000 and a small sashimi was also 2000.
They also do a vegetarian sushi platter for 2500.
Individual hand rolls cost from 300 yen each (minimum order of two).
The menu is also on their website if you want to check things out in advance or make a reservation.
It's open seven days a week – weekdays from 5pm to 10.30pm, weekends they open at 12 noon to 10.30pm.
It's not a place to come for a hurried lunch – there were only two chefs working the day we were there and they're proud of their presentation so things don't get rushed.
However, the layout is simple, and all the seats around the box-shaped bar face the chefs so there's plenty to watch while you wait.
We had a great lunch at Nadeshico – no, it might not rival Sukiyabashi Jiro as the best sushi in Tokyo, but it's certainly the most inspiring. Add it to your list of Tokyo restaurants to check it out.
Other Unique Sushi Bars in Tokyo
While Nadeshico is (currently) the only female-led sushi restaurant in Tokyo, it's not the only intriguing or slightly unique sushi restaurant in the city – you might also want to add these to your list.
The Standing Sushi Bar
It seems strange to stand up eating a meal, but standing bars and restaurants are quite common in Japan. It allows them to serve more people in a smaller floor space.
There are a few standing sushi bars around town but the one I went to was very close to Tsukiji Fish market so, not surprisingly, the quality was incredible.
And while the chefs might not have generally been quite as giggly as the girls at Nadeshico, they seemed super happy once they got out the blow torch!
Check out Standing Sushi Bar Cyoh at 3 Chome-10-9 Tsukiji, Chūō, Tokyo 104-0045.
The One With The Train
Sushi conveyor belts are nothing new any more, but in some restaurants in Tokyo, the dishes don't just revolve – they are delivered to you especially on a tiny replica bullet train.
Yes, I got a bit over-excited by this.
So excited I actually went to three of these restaurants in a week!
The idea is simple. You choose what you want from the menu and order from the iPad in front of you. Once your order is confirmed, the kitchen will make it for you, pop it on the little train and poof, it arrives like magic. Just lift it off and push the button to return the train to the kitchen when you're done.
One of the best known is Sushi Genki in Shibuya, but I'll be honest, it wasn't my favourite. I preferred the Sushi Go Round just around the corner – look for it next to Keibundo Book Store (marked on google maps).
There's also branches of this same chain – officially known as Kaisen Misakiko – in Shinjuku and Ningyocho.
The Ningyocho one was the first one I went to and if you've got time to branch away from the main sights, I'd definitely suggest you take a detour – this local area is great for wandering.
Find the restaurant at 2 Chome-2-4 Nihonbashiningyōchō, Chūō-ku, Tōkyō-to 103-0013, Japan
The One with Fire and Dressing Up
Simon and Martina from Eat Your Sushi are two really fun Tokyo-based YouTubers.
I've been following them since their days when they lived in Seoul – and now they've moved to Tokyo and are checking out all the most fun spots. Including this sushi joint which not only lets you get dressed up in yukata to eat – but it has amazing sushi and sashimi served in tiny boxes – and dishes with fire!
It's called Itamae Sushi Edo and you'll find it at 3-9-2,No.R Akasakamitsuke/1F. Akasaka,Minato-ku, Tokyo. Here are all the details in English.
Warning – it's definitely not cheap, but it does look fun.
Check out Simon and Martina's video here.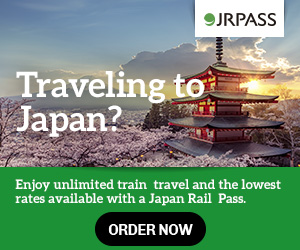 The 10 Yen Sushi Bar
If you're looking for cheap sushi in Tokyo, well, this might be the CHEAPEST.
A piece of yellowtail sushi in this Shinjuku sushi joint costs a bargain 10 yen – and there are heaps of other bargain offerings on the menu (although everything is in Japanese so you'll have to rely on the 'point, smile and hope for the best' school of ordering).
It was literally just opening for the evening as I walked past so I didn't get to go in but, I kind of regret it now.
You do have to buy a drink to get the bargain fishies, but the drinks don't seem to be super over-priced – check out this review for all the details.
It's called the Sushi Bar With No Name on google maps – and it's just around the corner from the Robot Restaurant.
The Ones with the Queue
Sushi Dai and Sushi Dawa in the new Toyosu fish market are quite possibly the busiest sushi bars in Tokyo – queues form to eat at them from 5am.
I was not getting up that early to stand in a queue!
The pick below was taken when they were at the old fish market in Tsukiji. While some restaurants and the main fish sellers have now moved on from here, it's still a great place to eat sushi and heaps of other things. Read more here to find out why I think Tsukiji Outer Market is still a Tokyo must see – and also to get information on visiting Toyosu.
The One Where you Win Gachapon
Most of the time in a sushi conveyer restaurant you stack up the plates to show how many you've eaten.
Not at Kura Sushi, here every five plates you post into the little hole that sends them off for washing gives you the chance to win a plastic Gachapon Toy.
If you have no idea what that is, check out our Beginners Guide to Gachapon.
If, however, you're already getting ready to eat your entire body weight in raw fish to win plastic toys, check out their website here.
Kura Sushi have over 20 locations in Tokyo alone so you should find one near where you're staying
My lunchtime rolls from the local food court now seem really dull in comparison!
If you like the idea of visiting a quirky sushi bar when you're in Tokyo, you might also like to read our post on heaps of other unique things to do in Tokyo.
Prefer to Try and Make Sushi?
No problem, there are a heap of sushi making classes available in Tokyo – here's a couple you might want to try.
Touring Tsukiji – and then making sushi: Go to the outer market (one of my favourite places in Tokyo) with your guide and learn all about the raw ingredients you need to make sushi – and heaps of other interesting foodie facts. Then, head back to a local cooking school to learn how to make your own. Click here to see more details, prices and availability.
Three Hour Sushi Making Class: If you don't really have time to do a tour, and just want to get your hands on the raw fish, then this afternoon tour which runs for 1.30 to 4.30 might suit you better. Click here to find out more details about exactly what it involves.
Making sushi – or other Japanese food with a chef at his home: If you want a really local experience, this class offered by Get Your Guide gives the chance to cook with local chef Sato. Saturday is his sushi day (but he offers other dishes on other days). Click here to see exactly what's on offer.
Disclosure: Some of the links in this post are affiliate links which mean I earn a small commission if you use them to book. This does not cost you any extra.
Sharing is Caring