Kyoto, the city of over 1600 temples, including the beautiful gold-leaf clad Kinkakuji and the giant zen garden that is Ryoan-ji. Wander its tranquil streets soaking in years of …..snore….sorry dropped off for a bit there.
Yes, embarrassed as I am to say it, Kyoto may be a fantastic historical city containing some of Japan's most incredible sights, but most of the things you're 'supposed' to see in Kyoto, simply don't float my boat.
As such, when we decided to add Kyoto to the itinerary for our last trip, I decided to dig about a bit and find some more unusual or non-touristy things to do in Kyoto.
I wanted to find fun things to do in Kyoto that didn't involve temples – and when I did go to a shrine or temple, I wanted there to be something a bit intriguing about it.
That was actually pretty easy – there are a LOT of unusual temples in Kyoto.
In fact, with a bit of delving, I found absolutely heaps of unusual things to do in Kyoto. So many in fact, I didn't get around to all of them in the time I had.
So, if you're like me and the normal list of things to do in Kyoto doesn't get you excited about visiting this beautiful city, here's my guide to 18 other more unusual things to eat, see or do in Kyoto – it could change your view of the city and its temples forever.
Fun and & Unusual Things to Do in Kyoto
1. Find Your Favourite Stone Person at Otagi Nenbutsu-Ji
Okay, so, you might be disappointed that with all that preamble above the first thing I'm telling you to visit is a shrine, but honestly, this place is fabulous.
Tucked away in the hills above Arashiyama it's inhabited by 1200 small weather-worn stone people – known as rakan – every one of which is totally different.
I wasn't expecting the amount of fun someone has had carving these.
When you see them from a distance you think they all look the same, but close up, not only do you realise they have different faces and shapes conveying their personalities – some of them even have props.
There is one carrying a tiny cat/bear thing, two friends are drinking sake – there's even one with a tennis racket!
It turned out to be the highlight of our day and my favourite of all the Kyoto shrines and temples I checked out,
Don't miss it.
The address of Otagi Nenbutsu-ji is Fukatani-Cho, Saga Toriimoto, Ukyi-ku, Kyoto.
It costs 300 yen to get in and is open from 8am to 5pm
We walked there which takes you through a really quaint residential area full of traditional old houses and beautiful gardens.
If you don't want to walk, you can also get the 62,72,92 and 94 buses – it is quite a way up the hill so that might be a good idea if you're already worn out.
Mind you, if we hadn't walked, I wouldn't have found the next thing on my list of unusual things to do in Kyoto, and that would have been a real shame.
2. Be Wowed by the Tiny Cocoon People
So, there we were wandering up the hill to Otagi Nenbutsu-ji when we went past the most amazing sight.
Attached to a wall by a small shop was an entire Japanese street scene laid out in a glass case with the people parts played by tiny white weeble-like creatures.
It took me a minute before I realised they were made from silk cocoons.
The level of detail on this is amazing.
Not surprisingly, it was created by the owner of Mayumura, a shop that specializes in selling little cocoon creatures.
I don't normally buy souvenirs but I really wanted one of these – and each tiny figure only costs 200 yen making them a veritable bargain.
Interestingly, when the family that owns the shop first told friends they were going to open in this area, known as Saga Arashiyama, they were told it could never be a success as the area was full of ghosts and no one would ever brave the place to visit them.
Thankfully, now enough people wander past for it to be a success – and the only spooky thing we saw when we were up there was a guy walking his dog in these shoes! How on earth does he balance?
This is the shop you're looking for – it is marked on google maps.
If you're not going to Otagi Nenbutsu-ji, there's also a second shop selling the tiny cocoon creatures on the main street in Arashiyama.
This is owned by the younger brother of the first store – and it's also known as Mayumura.
To find out more about both shops and the family that own them check out this interview with them.
3. Eat Fire Ramen
I spend months researching the trips I'm going to write about on this blog, months, so, when, about three days after I got home from my 2018 I found out about something seriously cool that I missed out on, the sulk is massive.
This is what happened with Fire Ramen!
After all, If you want a moment that sums up Weird Kyoto perfectly, what better than having your dinner set alight!!!
Obviously, you know what stopped me from getting there for a bit, but finally, on my 2023 trip I managed to get there – and it was everything I hoped!
Yes, I know it's a fuzzy photo, but, it's from a video!
Fire ramen is the specialty of a restaurant called Menbaka Fire Ramen, located slightly north of Kyoto Castle.
The idea is simple – you're served a bowl of light chicken, pork, and soy broth full of green onions, slices of pork, and noodles – and a layer of oil on top.
The chef then sets light to the oil.
This cooks the onions and pork giving everything a seriously smokey taste.
It costs 1350 a bowl and other sets are available – including one for 2260 yen which includes, as the restaurant puts it 'a cool badge'.
If you do want to go you'll find it at Menbakaichidai. 757-2, Minamiiseyacho, Kamigyo-ku, Kyoto-Shi, Kyoto.
It's open from 11am-3pm and 5-9pm, closed on Tuesdays and they don't take reservations. It's also a super small restaurant so you won't be allowed to linger. They allow 30 minutes per guest for the fire 'show' and the eating!!
Check out our longer post on it here.
4. Go Hunt Monsters
Yokai Street is part of Ichijo-Dori, a traditional old shopping street directly west of Kyoto's Imperial Palace – but what makes it special is the monster statues dotted along it.
The legend of Yokai Street is that many years ago a load of household goods that had been thrown away turned into spirits and rampaged down Ichijo-Dori until they got calmed down by a local priest – now each of the shops has its own little protector in their honour.
I loved Yokai Street – from the little monsters to the quaint traditional shops it was probably the favourite thing I did in Kyoto.
If you want to see more pictures and learn about the monster-themed foods you can buy on the road, have a look at our full post on Yokai Street here.
Yokai Street is about a 20-minute walk from Fire Ramen so it's easy to combine the two.
5. Have a Cloud Coffee
Oh if ever there was a drink made for Instagram this is it.
There's a cloud of candy floss suspended as if by magic over your hot drink of choice – as the steam hits the floss, the sugar melts into the drink as if it's raining.
Yes, it's as fabulous as it looks!
Find it at Alpha Food and Drink, 327 Nishidaikokucho, Nakagyo Ward, Kyoto, Kyoto Prefecture 604-0063, This is fairly near Kyoto Castle.
2023 Update: Unfortunately, it looks like Alpha Food and Drink has closed down. I'm keeping it on here though in the hope that they'll remerge once tourism in Japan picks up again.
6. Bless Your Relationship in the Magic Stone
The job of the paper-clad enkiri or enmusubi stone at Kyoto's Yasui Kompira Gu temple in Gion is to bind or break relationships – enkiri means to cut while the word enmusubi covers all kinds of connections, ties and relationships – be that with other people or with things or habits.
You buy a piece of paper from the stall by the shrine and write your name on it. Then clutching your bit of paper you climb through the hole in the shrine – just make sure you go the right way round.
If you want to cement a good relationship you need to go through the hole back to front. If you want to break off a bad one, then go the other way.
Thankfully we read this before I sent my friend Kendall the wrong way through the hole and doomed her and her boyfriend!
Personally, I was more worried that my curvier than the average Japanese butt might get stuck in the stone than about my love life so The Boyfriend and I will just have to take our chances!
You'll find the stone at the Yasui Konpari-Gu Shrine in Gion – it's open 24 hours but go early evening and you have the place virtually to yourself – this is generally the case if you want to make any popular attraction in Kyoto less touristy.
We met someone else there who had already visited twice during the day but gave up climbing through because there were too many people.
She was very pleased to just find only us there in the early evening.
7. Go Drink with a Monk
The salon & bar SAMGHA is run by Takahide Haneda, who also happens to be the head priest at the nearby Kounji Temple.
Not surprisingly, considering the owner's day job, this place is seriously calming.
It's dimly lit, you summon Haneda san by ringing a little bell on the table (usually used to summon monks to prayer) and conversation is more, quiet chatting than raucous drinking games.
The bar serves mostly Japanese wines, whiskeys, and beers.
Monastic he may be, but he's definitely not a charity – this was the most expensive night out I had in my whole trip to Japan – costing about £40 for one glass of wine and some nibbles!
But, hey I got to drink Japanese wine, I ate cheese made from grapes and I went home with a monk's business card so all was right with the world.
You'll find salon & Bar SAMGHA at 526 Yamada cho, Kamigyo-ku, Kyoto City, Kyoto City.
Normal opening hours are from 6pm to midnight
It's closed on Sunday and on the odd special day.
Find their opening hours on their website. It's only in Japanese so you'll need to use google translate.
8. Make a Deer Bow
About a 70-minute easy train ride south from Kyoto is the city of Nara – and, in the park at Nara are rather a lot of deer just wandering about.
To say they are used to people is an understatement. They'll happily wander up to you looking for a treat of the deer cookies they sell in the park – and, if you bow at them, they bow back.
Cue hours of fun.
It was absolutely hosing it down the day we went to Nara but the bowing deer made the drenching worthwhile!
Watch out though, while they are fairly calm most of the time, they can get a bit aggressive when you are carrying deer cookies, and they do nip.
Yes, it's super touristy, but where else in the world if you bow at a deer, will it bow back!!!! Look we have video

9. Soak in the Railway Onsen
Things you normally find at railway stations – trains, bookshops, coffee places.
Things you don't normally find at railways stations – little pools of warm water in which you can soak your feet, yet, tucked away at the end of the platform at Arashiyama station, is exactly that.
Simply go to the ticket office and pay your 200 yen fee to use the spa.
You'll be given a little bag with a free towel and a ticket that shows you've paid.
Then, head down the platform, take off your shoes (giving your feet a little wash before you put them in the spa itself), and relax while you watch the cutesy trains of the Keifuku Electric Railroad go back and forth around you.
It's completely random, absolutely bonkers and I totally loved it – as did my feet which by this point hated me as I had literally walked 200km in the last 10 days.
Once you've finished soaking, pop your shoes back on and you're handily right by the train that takes you to the famous zen garden temple at Ryoanji, or Kitano Hakubaicho, the nearest station to explore Yokai Street.
There's also another footbath by the Togetsu-kyo Bridge.
10. Check out the Kimono Forest
While you sit and soak your feet at Arashiyama station, you'll notice the outside of the station is surrounded by plastic tubes about 6ft high filled with coloured fabric.
This is the Kimono Forest an art installation by artist Yasumichi Morita.
There are over 600 pillars in all and 32 different fabrics on display, and if you're in Arashiyama at night, the tubes light up
I actually preferred the Kimono Forest to the real Arashiyama Bamboo Forest and which, in my opinion, does not live up to the Instagram hype around it!
Yes, it's beautiful, but it's very small and I felt a bit let down when I actually got there.
I did at least manage to see it 'deserted' – we got there at about 8am and there were only about 10 other people there – when we came past again at 11 am it was absolutely heaving.
Again, I go back to my number one Kyoto rule – go early!
I did, however, get a chance to play with the watercolor setting on my phone (see first pic above). Fun things to do in Kyoto number 19 – fiddle about with your camera!
11. Pray for Good Hair
At the end of the Arashiyama Bamboo Forest, you'll find a small shrine called Makami Jinja.
It doesn't look much, but if need any help in the hair department this is the prayer place for you.
Whether you're starting a hairdressing business, need some guidance on a do, or trying to stop the hands of time and prevent balding the gods here will listen.
You can either write your wishes on an ema – one of the small wooden plaques you find at any shrine or temple – or, if the priest is around, they will actually trim off a piece of your hair as an offering to the gods – and in return, the deities will help you out with your every follicular wish.
I loved all the offbeat Kyoto shrines I found, there really is a place to pray for everything.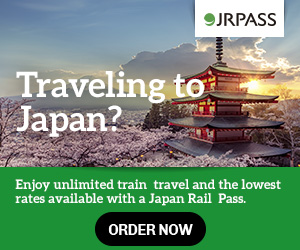 12. Eat an Octopus with an Egg in its Head
Okay, so so visiting Nishiki Market is a touristy thing to do in Kyoto, but that's why this post is called Unusual and Non-Touristy Things to do in Kyoto. I like to keep my options open – and this one is definitely an unusual, offbeat Kyoto thing to do.
You'll find these in the super busy – but absolutely enthralling – Nishiki Market.
I love markets so, Nishiki was my personal Kyoto must-see and it also turned out to be the perfect thing to do on a rainy day in Kyoto as it's under cover.
The little octopi are served on sticks – and if eating an entire tiny octopus wasn't odd enough, they come with a tiny quail egg stuffed into their head.
That was the worst bit for me as I intensely dislike boiled eggs!
The octopus itself isn't actually that bad. It's got a similar texture to squid and they are coated with some kind of sticky sweet glaze which gives the flavour a lift.
There are heaps of places in Nishiki that serve the little critters – and some of them will give you a sticker if you manage to eat one!
13. Find the Pom Pom Temple
Probably the busiest and most touristy parts of Kyoto are the winding streets around the Higashiyama district.
You definitely won't be alone up here – every road is thronged by people shopping, wandering about in kimono, temple hopping, and eating some of the super cute foods (like gold leaf ice cream) you can find nearby.
I wasn't expecting to be surprised by much up here – but then we wandered into Yasaka Koshindo – and found an entire temple decorated with coloured balls!
Mind blown.
Apparently, if you write your wishes on one of the coloured balls and then hang them up – one of the three monkeys that guard the temple will grant your wish.
It's a stunning place to see, but as with all Kyoto temples, if you want to get the place to yourself go as early in the day as you possibly can – it opens at 9am.
14. Go to the Doll Restaurant
So you've always wanted to eat an omelette while being stared at by large plastic dolls – my friend, I have just made your day as I know exactly where you need to go!
Issen Yoshoku is a restaurant that serves only one dish. A kind of omelette/pancakey thing made from eggs, spring onions, dried shrimp, beef, and a few other bits and bobs (there's a sign in the restaurant explaining all the details.
But if its singular menu wasn't enough to set it apart from everywhere else, some of the tables inside the restaurant come with their own life-size kimono-clad dolls to keep you company.
It's weird Kyoto at its best, a completely mad place – but actually, a welcome relief to see as it's tucked between the super pricey and a bit intimidating Gion district and the cheap, but a bit sleazy area on the other.
I admit, when I read about this place I thought it was going to be on the sleazy side – I was expecting a place full of sad lonely old men that would go silent as we entered, so I was a bit surprised to find it wide open, brightly lit and right on the main street.
Check it out if you need a fairly cheap protein fix – and a heap of intriguing photographs.
You'll find it at 238 Giommachi Kitagawa, Higashiyama-ku, Kyoto, Kyoto Prefecture 605-0073, Japan.
Officially the opening hours are supposed to be 11-3.00 weekdays and only open at night at weekends, but we went past on a weekday evening and it was open, so maybe check locally if you want to go in the evening.
15. Admire Some Moss
Just when you thought I'd finished with the temples, there's another one on my list – Giou ji, the moss temple
Yes, as if there weren't already a lot of things in Kyoto temples covered in moss – this one is actually dedicated to the green fluffy stuff.
In fact, there's a whole lawn full of it – not to mention the fact that it's springing up on stones, roofs and pretty much anywhere else it can grab a hold with its little frilly feet.
Okay, if you're not into moss, you might want to skip this one, but I quite like it!
However, if you're REALLY into moss – there are actually about six more moss temples in Kyoto including one called Saihoji which is a Unesco-protected site and requires a reservation to visit.
Famous as the setting of a renowned Japanese novel, the booking system was brought in as too many people were trying to visit and the moss was getting damaged.
Ideally, book at least two months in advance of your trip and prepare to be a bit flexible as they only have set sessions each day.
It explains how you can book here – not, it's not done online, you have to actually write to them.
It costs 3000 yen to visit.
16. Head to Maiko Antiques
Located opposite what's known as the boar temple (one of a couple of temples in Kyoto dedicated to helping people with sore legs!), this second-hand shop is worth a quick wander.
It's full of quirky finds – and they have a collection of secondhand kimono and yukata for sale outside.
The official address is 157 Komatsucho, Higashiyama Ward, Kyoto, 605-0811, Japan
Renting Your Own Kimono
If you'd prefer just to rent a kimono for the day, that's doable as well – as you can see by the heaps of pics of people wearing them, it's super common in Kyoto (okay, so I know that kind of goes against non-touristy things to do, but, it's pretty!).
There are lots of kimono shops you can hire from, but, we suggest you pick one close to the Hagashiyama or Gion districts as you'll find some pretty backgrounds for pictures here.
This one fits the bill and offers all-day rental for a very reasonable price.
If you don't trust your photography skills to capture the moment properly, there are also a number of kimono rentals that will add a professional photo shoot to the proceedings.
Take a look at one option for this, which offers shoots in the famous bamboo forest or around the Hagashiyama district here – and with packages for up to seven people you could make a family shoot of it. The price doesn't include kimono rental so make sure you book that first to get your dates sorted.
If you want to know more about what to expect on your day out, then this guide to renting kimono in Kyoto gives you more advice.
17. Eat Food That Looks Like Gemstones
Science nerds, heads up.
Every dish on the offbeat Kyoto cafe Usaginonedoko's menu is designed to look like a crystal or other piece of rock.
Their most famous dish is their black Meteorite Curry – the prettiest is possible the Amythest Pannacotta (only available as part of a meal set)
it's called Usaginonedoko and the official address is ウサギノネドコ Kyoto-fu, Kyoto-shi, Nakagyo-ku, Nishinokyo Minami Haramachi 37.
It's closed on a Thursday (guess which was the day I was actually nearby) – ah, well at least its something else to add to my next visit to Kyoto!
18. Ride The Zen Garden Train
Known as Kyo Train Garakua, this train that runs between Kyoto and Osaka at weekends is designed for you to experience the best Kyoto has to offer – while on the move!
It has carriages themed with cherry blossoms and maple leaves and, two of the carriages even contain zen gardens.
The train starts at Kyoto's Karawamachi Station and takes 47 minutes to travel to Osaka – but, if you don't want to go that far, you can use it to connect to the train to Arashiyama.
However, if you do this it doesn't give you that long to explore the train while it's moving, so, make sure you get to the platform 20 minutes before the departure time. You'll then be able to wander up and down the train before it leaves.
We've written a more detailed post on using the Kyo Train Garaku on our Japan blog Japlanease. If you want more details, then, click the link above to head over there to check things out.
19. Visit the Miffy Bakery
If you're a fan of all things Miffy, you're definitely going to want to stop off at the Arashiyama Miffy Sakura Kitchen on the main street in Arashiyama.
The shop next door sells all sorts of Miffy Merchandise – and you can fuel up for your spending spree with a Miffy bun!
Look how cute it is. The bakery does get quite long queues so get there early.
It's also close to the Instagram famous cloud cake and coffee shop. I wish I had pictures for this but they REALLY sell out early!
A Few Extra Things to See
There were a few other unusual things to do in Kyoto that we didn't manage to check out.
Kiyomizudera has a pitch-black room that aims to take you back to the womb, and another has a ceiling covered in bloody footprints, but with the time we had (and blisters literally on every toe by this point) we couldn't quite do everything.
Hopefully, even without these though, I've given you enough ideas to change your image of Kyoto as a city full of wall-to-wall serious temples.
It really is a gorgeous place – with a totally different feel from Tokyo.
Talking of which, if you liked this post – and are also going to Tokyo, we have one on there to – here's where to find a (long) list of weird, cute or unique things to do in Tokyo.
Oh – and we also now have a separate site just for Japan travel.
It's called Japlanease and it's aimed at making traveling to Japan a little bit easier so you'll find heaps of great advice on traveling to Japan. Here's where to find it. 
---
Who Writes Differentville?
My name is Helen Foster and I'm a journalist and author living in Sydney.
My travel articles have been published in titles including The Australian, Body & Soul at the Sunday Telegraph, RAC Horizons, Jetstar magazine and more.
I like the weird, the wonderful and anything that makes me jump and down with glee like I'm about three. That's what you'll find here.
Sharing is Caring
If you liked this post, why not share it on Pinterest so other people can find a heap of non-touristy things to do in Kyoto too.