Kyoto is known for beautiful temples and beautiful geishas, but watch out if you're wandering the backstreets of one area – as there be monsters! A whole road full of them in fact. Check out our guide to Kyoto's super-cool Monster Street aka Yokai Street. It's one of the most fun things to do in Kyoto (that doesn't involve temples)
Where is Kyoto's Monster Street?
This is a very good question and I didn't actually know the answer until I was standing in it!
I knew Monster Street was in part of a road called Ichijo Dori, but that's a long road and the big problem was I couldn't exactly find out where the 'monster bit' actually started bar a vague 'Yokai Street' icon on google maps which I wasn't quite sure I could trust.
Cue the big day, and my friend Kendall and I are standing outside a florist on Ichijo Dori a bit west of said icon unsure if what we're looking at is just a garden ornament or our very first monster.
Identification is not being helped by the fact that it looks rather like a famous children's storybook character.
'That's a Womble,' I said. 'It's not a Womble, it's a kappa – a Japanese Water Monster,' said Kendall.
While I'm wondering how in the heck she knows this (and still convinced it's a Womble), we continue our walk and find a map to the street. Turns out she was right and the florist (and the monster Womble) is the first stop on your monster-hunting mission.
So, officially, Kyoto's Yokai / Monster Street runs along the eastern end of Ichijo Dori between Nishioji-street and the end of the street where the road turns into Nakadachiuri-street. The closest station to reach it is Kitanohakubaicho which is just a few minutes walk away.
This 400m stretch of the road is also known as Tiashogun Shopping Street and most of the monsters appear around the crossroads of Ichijo Dori and Tenjin Dori.
Why Is There a Street of Monsters in Kyoto?
Another excellent question.
The legend goes back to a ritual in Japan called Susuharai. At the end of the year, Susuharai sees people going through their homes and clearing out any broken or unused household objects.
One day (at some point between the years 964-968 if you want to be specific), these discarded objects decided to fight back!
Not happy about being abandoned by the side of the road, the objects came to life. One hundred of them turned into monsters (or yokai in Japanese) and marched along Ichiijo Dori.
In time, and with the help of some Buddhist priests, the Yokai saw the error of their ways and gave up haunting the locals. Yet now, many years later the shopkeepers on the street celebrate their plight with little monster models placed outside their shops.
There are officially 21 monsters marked on the Yokai Street monster map (but I think there might be a few others that have joined them)
The variety of them is amazing – some are actually fully-formed figures, others more like cardboard signs – a few seemed to be cobbled together from leftover umbrellas and bits of rag or old brooms (which is kind of appropriate once you know the story of how they apparently came about in the first place), but each was fabulously quirky in its own way.
How to Get the Most Out of Yokai Street
When I was trying to hunt out info on Kyoto's Monster Street, there were a lot of disappointed people out there who had gone to Yokai Street when the shops were closed and only seen one or two little creatures.
That's not surprising – many of the monsters are inside the shops or are brought out by the owners when the shops open.
So, if you want maximum monster exposure, you're going to want to arrive in the street after 11am when most of the stores open and finish monster hunting by about 6pm as most of the stores close between then and 7pm.
That's actually not a bad plan anyway – most of Kyoto's popular temples are insanely busy during 'normal' sightseeing hours. You're better off going to see those in the early hours of the morning or late afternoon and doing other 'non-temple related activities' in Kyoto during the main part of the day if at all possible.
The shops themselves on Monster Street are also fascinating – this isn't a touristy area and so they are totally local shops.
You can spend a while wandering around the chemist trying to work out what on earth things are for (well I can!), or, head a bit further down the road to the fabric shop to pick up some amazing Japanese printed fabrics.
There's also a kimono shop, a stationery store and a traditional rice cake shop which are good for picking up some unique souvenirs.
Frankly, if you're looking for non-touristy things to do in Kyoto, I don't think you can really beat this one! A fantastic old Japanese legend, cute little monsters – and cool traditional shops.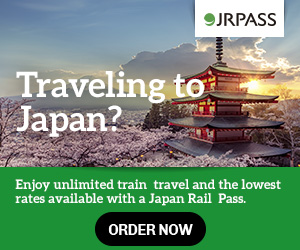 Are There Are Yokai Goodies in Yokai Street?
If you want to pick up special Yokai Goodies your best bet is the WonderShop – it's easy to spot as it's on the big junction of Ichijo Dori and Tenjin Dori – it also has an upper level full of monsters.
This wasn't open the day we went, and they admit they keep fairly irregular opening hours. If you're super keen to see it then contact the owner to double check.
Another must stop, which we also completely missed (yes, I spent so long trying to find the location of Yokai Street I'd totally mucked up the rest of the research on the outing) is Restaurant Inoue – this ramen shop sell a Yokai Ramen with a black soup base and pink noodles.
The level of regret I had when I discovered this little bit of offbeat Kyoto only after I got home is HUGE. Don't make the same mistake,
it's the shop with this black monster outside it and it's actually run by the President of the Taishogun Shopping Street association.
It's also a good place to pick up leaflets on the street – the little black monster is holding them for you.
You also find quirky monster-inspired munchies at the Yamada Deep Fry shop (which is actually on Tenjin Dori) and who sell special black croquettes.
Lastly, the Community Hall also has a Yokai Museum on the second floor. Look for the building with street map outside it.
If there's a specific store you want to see, do check the Yokai Street website as each one has their opening hours. Most importantly, check which day of the week they are closed as this varies from shop to shop.
Also, if you're in Kyoto in the 3rd Saturday in October there's a real treat in store. The street actually has a monster festival where people get dressed up as their favourite Yokai and repeat the march of the first 100 Yokai, There's also a Yokai flea market where people can sell their old unwanted goods so they don't have to feel unloved and turn into monsters.
And yes, I now have all the guilts about everything I've ever chucked away.
What to Read Next
If you're travelling to Taiwan at any point there is also a sister project to Yokai Street there. It's called Xitou Monster Village. Here's all the info you need to visit – eyeball cakes anyone?
Sticking with Japan, you might want to have a look at our guide to unique things to do in Tokyo. They might not have a street of monsters, but they do have a LOT of other quirky sights.
Of course Tokyo is home to Japan's most famous monster – Godzilla. Here's where to find some of the biggest Godzilla sights in Tokyo.
---
Who Writes Differentville?
My name is Helen Foster and I'm a journalist and author living in Sydney.
My travel articles have been published in titles including The Australian, Body & Soul at the Sunday Telegraph, RAC Horizons, Jetstar magazine and more.
I like the weird, the wonderful and anything that makes me jump and down with glee like I'm about three. That's what you'll find here.
Sharing is Caring
If you like the sound of this unique thing to do in Kyoto, please share this on Pinterest. It'll help others find the cute little yokai too.