'Take me somewhere really Tokyo-esque that I wouldn't go to on my own,' I said to my friend Jonelle who lives in Tokyo on my first day in Japan.
I admit, I was expecting her to take me some old school neighbourhood full of little shops and restaurants where her language skills would come handy, so I was a bit surprised, when she muttered the words 'Trick Art Museum' and ushered me onto the monorail to Odaiba, one of the newest parts of Tokyo.
But 20 minutes later when I was sitting on the floor pretending to ride a tiger surrounding by giggling Japanese folk, I realised she'd fulfilled the deal in spades.
The Tokyo Trick Art Museum was one of THE most Tokyo things I could possibly do! It's bonkers.
Disclosure: Some of the links in this post are affiliate links which mean I earn a small commission if you use them to book. This does not cost you any extra.
What the Heck is a Trick Art Museum?
The idea of the Tokyo Trick Art Museum is simple – the pictures are painted so that if you position yourself in a certain way and your friendly companion takes a picture of you, it looks as if you're living in the painting.
At first, in my normal self-conscious British way I was just sort of standing smiling in the pictures, but then when I realised everyone around me was getting VERY into it, giggling madly as they contorted themselves into various positions with expressions of fear, horror or glee (depending what the painting required) I decided to just go with it and have some fun.
How Long Do You Need?
There are about 20 paintings to 'play in' laid out in four/five rooms and, depending on how many pictures you take you'll probably spend 30-60 minutes here.
Does It Matter if You Don't Speak Japanese?
No. You're let in a few people at a time and the guides explain what's going on.
Our speech was completely in Japanese (Jonelle speaks fluent Japanese and had chatted to the staff and so I guess they thought I must understand too), but that proved that you don't need to know any Japanese to have fun – just check the pictures at the side of each painting which gives you clue of where and how to stand to get the desired effect.
A bigger issue might be that some of the scenarios were made for shorter, thinner, bendier people than me.
I quickly decided that trying to fit my boobs through the body hole in one mermaid painting had the potential to turn into some kind of emergency requiring the fire brigade and cutting equipment so I skipped that one, and the slight grimace in the picture above was because my knees were not bent at a happy angle, but overall a truly brilliant time was had by all.
If you can't get into position improvise. This one isn't exactly how you're supposed to stand – I just quite fancied having wings!
I think my favourite was probably the wine glass in which you're trapped by the evil vampire – that one immediately went onto Instagram. T
hey do however regularly switch up the exhibits – some of them were different from when Jonelle had last been here so expect some surprises.
Top Tip: Just in case you feel the need to update Instagram immediately, you'll need a SIM card. I get my Japan SIM cards from Klook and pick them up at the airport. Book yours in advance here.
Where is The Tokyo Trick Art Museum?
It's on the 4th floor of the Decks building in Odaiba.
How To Get There.
The easiest way to get to the Tokyo Trip Art Museum from central Tokyo is to jump on the Yarikamome monorail line from Shidome station and get off at Odaiba-Kaihinkoen.. The Museum opens at 11am each day and stays open until 9pm – with the last entry at 8.30pm.
How Much Does it Cost?
The museum costs $1200 yen for adults which you pay to the vending machine outside so, like much of Tokyo, you'll need cash.
It costs 800 yen for children.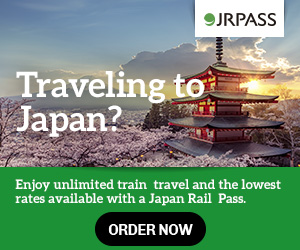 What Else is Nearby?
Decks Odaiba is one of two adjacent mega malls (the other one is known as Aqua City) that are packed with shops and other things to do and between these, the futuristic Maraikan, National Museum of Emerging Science and Technology (one of the places you can meet a robot in Sydney), a big wheel, a fake beach and a giant transforming Gundam robot you can easily spend an entire day in this part of Tokyo.
Even if you don't leave the Decks building itself you could amuse yourself for half a day or more in here – making the Trick Art Museum and everything around it the perfect thing to do on a rainy day in Tokyo.
Start by wandering around the little mall of shops just before the museum selling all sorts of quirky Japanese souvenirs.
Then pick up lunch or some snacks at the Odaiba Takoyaki Museum which gives you the chance to sample the fried octopus balls that are the speciality of Osaka, a town about 2.5 hours away from Tokyo by bullet train. Different stalls from the city have stands here – including one that adds wine to their recipe.
Should your holiday to Japan not be complete without taking home a giant red fluffy octopus ball that's okay too – there's an entire shop of them here!.
Decks is also home to three other major attractions – the Tokyo outlet of Madame Tussauds, the Legoland Discovery Centre and the virtual-reality theme park Joyopolis but they were a bit too international for me to try on this trip (plus, I'd have had to acquire a child from somewhere as a weird rule says that adults can't go to Legoland here solo, they must have a child in tow).
If you do fancy these though, it's easy to book some of your tickets in advance – here's where to book Joyopolis and here's where to book tickets for Legoland.
The Giant Unicorn Gundam does it's thing a few times a day. If your kids are huge manga or anime fans you'll want to be there for when it changes.
The show is on at 11am, 1pm, 3pm and 5pm.
Talking of children, we normally aim at big kids here at Differentville, but if you have actual real small ones, here's a fab list of things to do with kids in Tokyo.
The fact that I have eaten the same pig ice cream, queued up for the rainbow sandwich, been to Tokyo Disneyland – and a few other of the things they suggest in there we'll just gloss over!!!
Well apart from the fact that you'll find all of them in my pick of the most unusual or cute things to do in Tokyo
There's also a haunted house here which Jonelle described as one of the most disturbing things she's ever done – and not necessarily in a good way!
If you're here at night you'll also be treated to their Yakei illuminations display
Lastly, don't miss the sight of the Statue of Liberty that's just outside. She arrived in 1998 as part of a celebration of Japan's ties to France (the original statue in New York harbour was a gift to the American's from the French) but people liked her and so she's still here.
She's about a seventh of the size of the New York version, but a handy trick of perspective makes her look far bigger than she is from the right angle. Seems they're rather good at Trick Art of all sorts in this part of Tokyo.
What to Read Next
If you're looking for other fun things to do in Tokyo, how about visiting a road full of tiny statues of Tanukis? There's one is Asakusa and we talk about it our fun Asakusa guide.
Or, you could order a banana from a vending machine in Shibuya. Yes, that's an actual thing and here's where to find the banana vending machine.
If more interested in fun museums, then you might want to bookmark a trip to the Wonderfood Museum in Penang for future reference. It's full of giant models of plastic food and really good fun.
---
Who Writes Differentville?
My name is Helen Foster and I'm a journalist and author living in Sydney.
My travel articles have been published in titles including The Australian, Body & Soul at the Sunday Telegraph, RAC Horizons, Jetstar magazine and more.
I like the weird, the wonderful and anything that makes me jump and down with glee like I'm about three. That's what you'll find here.
Sharing is Caring
If you think the Tokyo Trick Art Museum looks fun, why not share this pin on Pinterest so other folks can find out about it too.
Disclosure: Some of the links in this post are affiliate links which mean I earn a small commission if you use them to book. This does not cost you any extra.