Fukuoka in Western Japan is Japan's seventh biggest city, but despite this when you look for suggestions of things to do in Fukuoka not much comes up. Yes, there's the big shiny Fukuoka tower, ruins of a castle and a huge mall, but generally, that's about all anyone suggests.
However, dig a little deeper and you'll find Fukuoka is a town full of fascinating things to see, quirky things to do and tasty things to eat – here's our guide to 28 of the best, most fun and most unusual things to do in Fukuoka.
Disclosure: Some of the links in this post are affiliate links which mean I earn a small commission if you use them to book. This does not cost you any extra.
My flights for my Fukuoka trip were also kindly provided by the JNTO (see below for full disclosure)
What to do in Fukuoka
Let's start with my list of things to see in Fukuoka – shrines, temples, beaches and a few cute animals. And we'll begin with what I think is the one thing you absolutely must see of all the Fukuoka attractions…
Visit the Incredible Buddha
I'm talking about Nanzoin temple here – home to the World's Largest Bronze Statue – and it's just astounding. This place left me speechless for so many reasons.
For more pictures of the Buddha, full details of what else you'll find at the temple and exact advice on how to get there visit my full post on Nanzoin Temple, but the short version is you take the train from Hakata to KidoNanzoin-mae and follow the signs.
Go the Island Full of Cats
This was the main reason I wanted to visit Fukuoka and it did not disappoint.
Called Ainoshima it's located about an hour's train and ferry ride from Fukuoka itself. The island is home to about 150 mostly feral cats that lounge about the place looking cute and cuddly.
If you want exact details of how to get to Ainoshima including all the ferry timings, check out my post on the Fukuoka Cat Island – there are more cute pictures too.
Visit the Island of Flowers
Nokonoshima Island is another short ferry trip away from Fukuoka and it's best known for Nokonoshima Island Park at its northernmost tip. This is filled with thousands of beautiful flowers with something different flowering each season.
What you see will, therefore, depend on when you visit – it might be sunflowers, tulips, poppies or pretty pink flowers called Cosmo's above – they have a full list of what is likely to be in bloom when on their website in English
To get to Nokonoshima from Fukuoka you jump on the ferry from Meinohama Port. You'll need to get to here by train and then a local bus.
Full transport details are also on their website
Meet Some Otters
Pop Quiz: You're wandering down a road in Fukuoka and you see a sign that says 5F: Cafe of Otters – what do you do people, what do you do?
Well considering you are talking to someone here who flew to Japan three days earlier than she needed to in order to visit an island full of cats, what do you think I did? And look at the cuteness.
So, now we have the cute out of the way, I have to mention a few reservations I had about this place.
When it comes to cafes in Japan otters seem to be the new hedgehogs (you can also play with those here too) and there a few otter cafes opening up.
I've been to one place in Tokyo which had the otters in a pool and didn't let you hold them – this place did let you hold them, but I didn't see any water for them to play in.
The other problem is, otters bite – and so you have to be a bit careful you don't get nipped with their teeny tiny razor sharp teeth!
Because of this some of the otters who didn't play well with people were kept in cages which I didn't like at all.
The ones running around seemed happy enough and they definitely liked to interact with the people coming to see them – but personally, I really didn't like the fact that they had some of them caged.
If you do choose to visit the otter cafe it's pretty much next to the Morris Black Sheep British Pub on Shinganrinnoncho-dori.
Look for the cutesy otter picture in the middle of lots of other signs. The cafe is on the 5th floor.
Experience an Earthquake
No, not a real one, I'm really hoping that doesn't happen on your holiday, but, it's a fact of life that Japan does have earthquakes and other natural disasters and City Disaster Prevention Centre centre aims to prepare citizens for any of these with simulations of earthquakes, typhoons, fire and more.
You can stand in a room and be blasted by the full wind of a typhoon (which leaves you with the hair below – the serious eyebags and the fact that I look twenty years older than normal is thanks to a night flight and a bad camera angle. I don't normally look like a Bassett Hound).
You can then sit in a mock schoolroom and practise your earthquake drill.
The simulations occur at set times and so you'll get to try whatever is going on when you arrive – time things correctly and you'll also be taught how to get out of a burning building – which must be quite realistic as the people coming out before me all had handkerchiefs over their faces – and find out what to do if your car goes into water.
The centre is a short walk from Fukuoka Tower, so it's easy to combine the two.
You'll find the City Disaster Prevention Centre at 1-3-3, Momochihama, Sawara-ku, Fukuoka. It's closed on a Monday. The simulations are only in Japanese but you do get an English audio guide to help you work out what is going on.
You have to lock your bag in a locker which costs 100 yen so make sure you have some change.
As you can see from the picture above, you may also need a hairbrush afterwards.
Climb the Green Building
The Acros building in the middle of Fukuoka is known for the cascading layers of greenery that adorn one side of its exterior – but, what you might not realise, unless you spy someone peeking out from the fronds, is that you can climb up to the top for a view of the city. – once you find the entrance that is.
Twice I went inside to try and work out how to get to the roof, before I found someone to ask and discovered that actually, the entrance is on the green side of the building on the left if you are facing it (roughly where the guy in blue is on the pic above).
Below is a picture of the entrance. Just keep climbing until you reach the top.
The official observation level on the roof does close early – as early as 4.30 when I was there – but even if that is closed you can climb up the stairs to about the 13th floor for a view over one side of the city.
Head to the Beach
I never think of Japan's cities as being beachside, but Fukuoka is and the beach in town is super cute – if a bit windswept the day I went.
They've created a boardwalk and the tiny shops that line one end of it are reminiscent of a US seaside town – you can sit in a deckchair with a beer and watch the waves, have a seafood lunch, or, just around the corner, they have oysters you can shuck and BBQ.
It would be a lovely place to spend a few hours in Summer.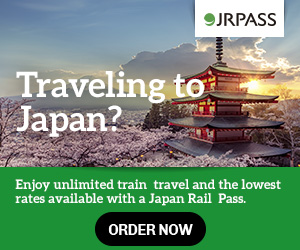 Walk the Path Between Heaven and Hell
Fukuoka rivals Kyoto for cool shrines – there are a lot of them – and Tochiji is one of the must-sees.
Not only does it have this incredibly beautiful pagoda outside it, inside is a huge wooden Buddha nearly 11 metres tall (you can't photograph this so you'll need to go see it for yourself).
That's interesting enough but underneath the Buddha runs one of the most unusual things to do in Fukuoka – a walkway that represents the path between heaven and hell.
It starts off lit allowing you to view pictures depicting eight visions of hell, as you go past these though you enter a completely pitch black tunnel that you walk through to get out.
It's said if you manage to touch the iron ring in this tunnel you'll go to heaven (hopefully not there and then, but that's not exactly specified!).
It is REALLY dark in there but there is a rail to hang onto.
It's only about 100 metres, but I went through on my own so it was super spooky. I didn't find the ring. I am doomed.
Pick up the Strength Stone
Kushida Shrine is another one of the must-see shrines in Fukuoka and it's full of quirky touches – but one of my favourites is this seemingly rather dull looking stone.
It's known as a Chikari Ishi and back in the day stones like it were used for fortune-telling. You'd ask a question and, if you could suddenly lift the big heavy bit of rock the answer was yes.
They aren't used for that now though, over the years there developed a custom of sumo wrestlers lifting large rocks at the shrine and dedicating them to the gods – and this is leftover from that. It's the only one that mere mortals, rather than gods of sumo, are allowed to try and lift.
Please try not to put your back out!
Go Stand in the Middle of Lake
Ohori Park is another one of the few things that you see on normal guides of things to do in Fukuoka – and it's pretty.
You can hire a boat shaped like a swan to float about in, run around the edge or sit on the grass – but the only real 'sight' is this pagoda that juts out into the lake.
I've put it in here are it is cute (and, if you're looking for instagrammable things in Fukuoka it's a doozy) – but, if you're short on time, there are far more interesting things to do in Fukuoka than this!
Visit the Power-Giving Sumo Statue
'Touch the well-built body and palms to feel its energy' is a bit of a worrying phrase, but it's the instructions of what to do when you visit this statue.
The statue is of an ancient Sumo warrior back in the day when Sumo wasn't a sport but actually a spiritual ritual associated with the Shinto sect.
Back then the warriors were sculpted as well as strong – a very different image from the strong but erm, curvy, Sumo wrestlers of today.
The lines on the palms of this statue resemble the character for the word power in Chinese and so people touch the statue to get some of his powerful energy when they need it.
Find the statue outside the Sumiyoshi Shrine a short walk from Hakata station at 3 Chome-1-51 Sumiyoshi, Hakata Ward, Fukuoka, 812-0018,
Get a Selfie with the Giant Cat
Okay, I can explain Japanese religion, I can explain the legend of Sumo – this I have no idea, but I like it so, go see it!
It's at the We Base hostel on Doidori Avenue.
If you fancy sleeping near the giant cat, We Base is one of the main hostel brands you'll find in Japan – and most of their hostels have some kind of cat input.
If you're looking for somewhere fun and affordable to sleep in Fukuoka, this is definitely worth looking at.
Check prices and reviews of the hostel here.
Find the Robot Vending Machine
You can also add this to my list of 'I have absolutely no idea why but it's cool.'
You'll find it in Daimyo on the junction of Kokutai-dori and Konyamachi Higashidori (the same road as Alice on Wednesday is on – see below)
See Thousands of Tiny Dolls
If you're in Fukuoka in February or very early March then jump on a train to nearby Iizuka and experience the incredible sight of over 10,000 dolls displayed for a festival called Hinamatsuri.
The dolls are on display at an old miner's home called the Old Ito Denomen House and what makes the display even more incredible is that one woman owns them all.
To find out more about Hinamatusuri and where to see the best displays in Fukuoka – and elsewhere in Japan, check out this post on my specialist Japan blog that gives you all the info on this amazing Japanese festival of dolls.
Go Through the Tiny Door
If you're an Alice in Wonderland fan this is your happy place. It's called Alice on Wednesday and once you crawl through the tiny door to get inside you'll find all manner of Alice themed trinkets to weigh down your luggage on your return.
This is one of the many cool shops and bars in the Daimyo district of Fukuoka.
It's kind of like Harajuku in Tokyo (without the thousands of tourists) or America Mura in Osaka.
If you're looking for independent boutiques, second-hand clothing, cool bars and chic cafes you have to add this to your list of what to do in Fukuoka and spend at least an afternoon here.
Save the City from Godzilla
Whenever you read a post of things to do in Fukuoka, it will tell you to go to Canal City shopping mall.
And yes, it's an interesting mall – with winding canals snaking through it and lots of themed restaurants like the Moomin Cafe or the Harry Potter Cafe to entertain you.
However, the thing that makes Canal City end up on this list is that they do a nightly show involving Godzilla – and it's definitely an 'Only in Japan' experience.
The idea is that you have to save Fukuoka from attack by Godzilla by downloading an app and frantically tapping at your smartphone.
The big scaly one appears about 20 feet high on one of the mall's windows and attacks the city – fountains go off, lights flash, there's crashing and booming and the aforementioned roaring. I thought it was fantastic!
It takes place every night but timings vary as it needs to be dark to show it. There is another show before it which is also pretty cute and involves more lights and fountains – but Godzilla is the good one.
Find all the light show timings on the Canal City webpage.
---
If you're going to Tokyo on your Japan trip and love Godzilla, you're going to want to check out our guide to all the Tokyo Godzilla sights here.
---
Stay at the Robot Hotel
Officially known as Henn na hotels these are springing up all over Japan and Fukuoka now has it's one too.
You're checked in by a couple of friendly dinosaurs and your room has a little robot butler to answer your every need.
Admittedly, from what I've been told the robot butler doesn't always quite work as planned, but see it as part of the fun.
Note check in time is at 3pm – if you get there earlier the robots will be sleeping (literally, it's very cute, go check it out) – you can leave your bags though.
Check out the video below to see what happens on check-in. If this makes you as happy as it does me and you like the idea of staying at the Hen na Robot Hotel in Fukuoka, here's where you can book or check rates.
Foodie Things to do in Fukuoka
There were so many fascinating food and drink based things to do in Fukuoka that I decided they needed their own section – and I could have added so many more if I'd had more time (and stomach space). Here's what I managed to cram in though…
Breakfast at the Fish Market
Okay, so this isn't that unusual, but it's super authentic and was one of my favourite moments on the trip.
Unlike Tokyo's famous fish market, Fukuoka's Nagahama fish market isn't normally open to the public (but if you're lucky enough to be there on the second Saturday of each month you can go inside) however there is a tiny arcade of restaurants right next door, serving fresh sushi and fish dishes made from the catch of the day.
I went to this one, Hagata Uogashi.
They had pictures with prices in the window and so I snapped a shot of the one I wanted, waved it at the smiley waitress and voila – the most delicious plate of fresh sushi, amazing miso with fresh clams, some pickled cucumber and two small deep-fried prawns appeared for just 1100 yen.
I really loved this place. I was surrounded by old guys in wellies taking a break from working the fish market asking me where I was from and if I liked the food.
I sat at the counter and watched fish being grilled and the old lady and man who I guess must own the place barking orders at the kitchen staff. It was a great way to start my day in Fukuoka.
Finding the mall is a bit tricky as you'll think google maps is sending you to the wrong place. It's not.
Head to the fish market and walk up toward the gate barring entrance, you'll see a pathway to the right heading towards a nondescript concrete building.
Go into this building – you'll see a restaurant on your left and a set of stairs on the right you'll still think you're in the wrong place – it looks like a bad council office – but you're not the restaurants are all on this floor, just wind your way around until you find one you like the look of.
If you'd like some clue of where else might be good, this was the best guide I found – although I still wasn't quite sure which restaurant was which when I arrived.
Try These Quirky Kettle Noodles
These are the speciality of the Hakata AkaChokobe restaurant just a short walk from Kushida shrine – one of Fukuoka's must-see sights.
Zubora Udon is unusual as, instead of being cooked by dipping the noodles in an entire vat of water, they are cooked in a kettle on the hob and served in the water they come in.
You then hoik them out with chopsticks – not as easy as it sounds as they are about half a metre long – and dip them in the tasty sauce that accompanies them.
Which brings me to the sauce – there are two choices. One contains natto – aka stinky soybeans, the other is a broth with chilli and pieces of intestine. Yes, I know that might sound a bit like Hobson's Choice.
I personally went for the intestine as the sauce was warm and I was in Fukuoka in February so needed warming up.
It was actually delicious – the sauce is rich and spicy and as I found out when I first tried them in Taipei intestines actually just taste like pig fat.
If you didn't know what they were you wouldn't be able to guess.
Honestly, trust me – but if you really don't want to eat them you can enjoy the sauce and the kettle noodle experience without consuming them.
You'll find Hakata AkaChokobe at 7-10 Reisenmachi, Hakata-ku, Fukuoka, 812-0039. It's open 7 days a week from 11.30-2pm then again from 6pm to 11.
Visit Sanatorium
This cafe come art gallery is designed to look like a hospital – your drinks come in beakers, the staff dress in hospital coats, there's bits of bodies (plastic and pickled) dotted around the place and there's an MRI of the owner's brain on the wall.
Said owner is artist Takamaka Sumi and if you're lucky he'll be there to show you around.
He doesn't speak much English, but he's a lovely guy and his work is fantastic. You can see more pictures and read more about the cafe my larger post on Sanatorium here .
This is their full address – 3F Saeki Building, 3-3-23 Tenjin, Chuo-ku, Fukuoka-shi you'll know you're in the right place if you look up and see a body (plastic not real) in the window of the building.
Have a Kebab
I know I was surprised that this made my list as well, but sampling the signature dish at Guru Guru Chicken in Fukuoka's hipster area of Daiymo is one of THE things to do in Fukuoka.
The kebabs are full of chicken meat and salad and you can pick how spicy you want your sauce – I went for super hot and it was pretty good.
I'm not normally a kebab fan as I find them super messy and normally end up with more of it in my lap than my mouth, but in true neat, tidy Japanese style, this doesn't seem to happen with a GuruGuru kebab.
It's just a street stall so you're not going to spend long here – you grab the kebab and then sit in the small row of seats behind the stand, but if you want a quick meal while sightseeing – or a really local experience, give it a try.
You'll find it at 1-chōme-15-33 Daimyō, Chūō-ku, Fukuoka, 810-0041. They are open from 11.30-10pm.
Eat at One of the World's Best Restaurants
From one extreme to the other – roadside kebabs to La Maison de la Nature Goh – listed at No48 on the list of Asia's 50 Best Restaurants.
It serves French-Japanese cuisine in a six or seven course menu.
Sadly at between 6-8000 yen a head it's a tad out of my price range, but if you like gourmet food, add it to your list of what to do in Fukuoka.
Originally, the restaurant was going to close at the end of 2019 as Goh had decided to team up with Bangkok chef Gaggan Anand to create a super restaurant in Fukuoka.
I'm not sure if that's still happening, as obviously, a lot has changed since then, but I have been lucky enough to go to Gaggan and that was incredible, so watch this space on that one.
For now though find the location and details of how to book La Maison here – and yes, you must book as far in advance as you can. They open reservations two months in advance.
Go Try a Baked Curry
This isn't in Fukuoka itself but is a short train ride away in the cutesy town of Mochi Retro.
This place looks kind of like what would happen if Disney designed a town – it's dotted with old fashioned houses, huge observation towers and a pretty waterfront – but the standout attraction in Mochi Retro for me was their signature dish. Baked Japanese Curry.
If you've never had Japanese Curry it's like the ultimate comfort food and in Mochi Retro they kick the comfort further up a notch.
They serve the curry on a bed of rice, but throw cheese on the top and then bake it in the oven – it's like curry and lasagne had the most beautiful food baby ever.
There's such a culture of baked curry in Mochi Retro that they have a curry map showing you all the restaurants you can try it.
I got there late on a Sunday afternoon and most places were closed (seems its mostly a lunch thing) but I managed to snag a seat at the super-popular Bear Fruits opposite the station for my curry and it was absolutely delicious. Highly recommended.
To get to Mochi Retro from Hakata Station takes about 43 minutes by train.
Get the Shinkansen to Kokura and then change to the local line for 30 minutes.
Both journeys are covered on a Japan Rail Pass
If you're just travelling around Kyushu, you might want to look at the Kyushu Pass instead. Find details on that here.
Go for a Drink in a Barbers
Merican Barber shop is one of Fukuoka's more unusual bars – to get to it you have to walk through a working barbershop, and every so often during the evening one of your fellow patrons will nip off for a trim.
It's quite hipster – there was a lot of RnB playing the night I was there, and if you sit at the bar it's very dark (use your phone to check the drinks list kind of dark) but they were really friendly.
It is a bit tricky to find though.
Google maps will send you to the address okay but when you get there there's a few different doors – I wandered around a few dodgy stairwells until I realised the entrance was actually behind me underneath the stairs.
This is what you're looking for…open the door and head down the stairs.
Merican Barber is at 〒810-0023 Fukuoka, Chūō-ku, Kego, 2-chōme−13−7 B2 (it's a short walk from Daiymo). It's open from 11am to 2am every day but Tuesday.
Eat in a Yatai
Yatai are a unique Fukuoka dining experience – they are basically little outdoor stalls that open in the evening seating just a handful of customers.
You turn up, order a few beers and whatever the dish of the house is and have a chat to your fellow diners.
Just wander up to your yatai of choice, check the menu for prices and to make sure they have what you like, then motion to sit down – most are foreigner-friendly, but a few prefer to only serve Japanese customers.
This is normally because they don't speak English that well and worry they may not be able to help you.
Don't be offended if this happens, it's not personal – just try the next one along.
Taste a $28 Bar of Chocolate
I'd heard that Green Bean to Bar chocolate shop was one of Fukuoka's must-stops for foodies, so off I went only to end up impressed by the taste but completely gobsmacked by the prices.
That's AU$28 (£15) for a bar of chocolate! Yes, it's award-winning chocolate but even so – how much?
There's a few cheaper ones but you're still looking at at least $10 for a bar
They do give you tiny samples and it was delicious but that's probably the price of two meals for me when I travel so, I wandered about looking as if paying that much for a bar of chocolate didn't bother me and then slunk out of the door….If you're a super-gourmet though you might want to give it a try.
They also have a cafe which offers a tasting experience and various other chocolatey treats that's a bit less spendy.
The address is 〒810-0021 Fukuoka, Chūō-ku, Imaizumi, 1-chōme−19−22 西鉄天神CLASS 1F. It's open from 11-9pm every day but Wednesday.
Try Tonkotsu Ramen
It's the speciality of Fukuoka, a ramen with a light frothy broth made of pork bones.
You'll find it all over the city, just wander into any ramen shop.
I had mine at a tiny restaurant on the corner of Romandori and Nakasu Chuodori. If you're looking for local recommendations though, check out this post on Fukuoka's best ramen shops
A Note on Ichiran
Ichiran is a famous Japanese ramen chain – but it actually began in Fukuoka in 1960. It's therefore the natural place to give it a try.
Be warned though, the queues can be very, very long – a top tip is to find one of the 24 hour branches and go and try soup for breakfast which can help you beat the queues.
Find a list of Ichiran locations in and around Fukuoka here – including the first ever store in Nanakowa
Get Brave With Chicken Sashimi
Yes, raw chicken is a thing in Japan – but they are so blaze about it I didn't even realise I'd eaten it until about two days later when someone else mentioned it.
I don't think I even photographed it – the picture below I snapped because one of the dishes was tofu skin!
The chicken sashimi came as the course after this and it was just one or two tiny slices of meat.
This was part of a set course menu at the restaurant Hanamidori which is famous for its Mizutaki.
This is a chicken hot pot dish and another traditional Fukuoka dish you should try while you are there.
In Mizutaki you basically cook all the bits of chicken – including hearts and livers in a bubbling broth with vegetables picking out the bits with chopsticks.
The idea of eating raw chicken is a bit scary for most of us who have it drummed into us that it's dicing with food poisoning, but the few outlets in Japan that serve it pride themselves on sourcing absolute top quality meat so the risk of problems is extremely low.
Hey, Fukuoka is also the home of Fugu – the pufferfish that's potentially deadly, thank your lucky stars I didn't try that in Fukuoka or there would be have been 28 things on this list.
You can find an English menu for Hanamidori here – the restaurant is at
4-chōme-6-12 Nakasu, Hakata-ku, Fukuoka, 810-0801, Japan
Looking for Hotels in Fukuoka?
Search here to see what's available and prices and then book via your favourite booking engine – be that Booking.com, Agoda, Hotels.com or one of the others.
So there you have it, my list of 27 Fun and Unusual Things to do in Fukuoka – and I'm sure there are more that I missed. I really loved this town and would have loved to spend more time there, particularly exploring all the bars and restaurants in the nightlife areas – I will go back though so expect this post to get longer at some point!
What to Read Next
If you have some spare time in Fukuoka, you might want to jump on the bullet train and visit the nearby town of Kokura. It's famous as the place where YakiSoba was invented and, even though I ended up there by accident, I had a fantastic couple of days. See more in this guide to things to do in Kokura.
Fukuoka is also one of the biggest towns close to the Motonusumi Shrine with it's amazing tunnel of 123 bright red torii gates. There's also an amazing story about how it came to be. See more about it in our post on the shrine.
---
Who Writes Differentville?
My name is Helen Foster and I'm a journalist and author living in Sydney.
My travel articles have been published in titles including The Australian, Body & Soul at the Sunday Telegraph, RAC Horizons, Jetstar magazine and more.
I like the weird, the wonderful and anything that makes me jump and down with glee like I'm about three. That's what you'll find here.
Disclosure: Some of the links in this post are affiliate links which mean I earn a small commission if you use them to book. This does not cost you any extra.
As mentioned, my flights to Fukuoka were paid for by the Japan National Tourism Organisation as part of a trip to Western Japan – however, my itinerary and accommodation for this part of the trip were planned and funded by myself. The JNTO has no input into what I'm writing or my itinerary for this part of the trip (other than taking me to Hanamidori) all excitement is genuinely mine, mine, mine.
Sharing is Caring
If you liked this post on Fukuoka, why not share it on social media so other folk wondering what to do in Fukuoka can find it too.