Japan has a few different cat islands, but one of the easiest to reach is Ainoshima which is a simple day trip from the major city of Fukuoka. Here's what you need to know…
I'm surrounded by kitties – they're sleeping in fishing nets, chilling out in wheelbarrows, prowling the paths around the bright blue, fishing boat filled harbour hoping for snacks or just sitting in the sunshine doing whatever cats who live on an island do all day.
This is Ainoshima, one of Japan's many cat islands – and it's brilliant.
No wonder it's also known as Cat Heaven Island.
Disclosure: Some of the links in this post are affiliate links which mean I earn a small commission if you use them to book. This does not cost you any extra.
My flights on this trip were also paid for by the Japan National Tourism Organisation – see below for more details.
The Cats of Ainoshima Island.
About 150 cats live among the 500 people that call the small island of Ainoshima home. That home is located a 20-minute ferry ride from Shingu port on the coast of Kyushu island in Western Japan.
Chances are the cats were brought here by fishermen trying to stop mice and rats munching through their nets, but over the years, the felines had families and now, they're all over the show.
Most of them are feral (but friendly), some of them have collars, but they've definitely made the place their own.
You'll trip round them as you walk along the harbour pathway; they'll wind round your feet if you stop for more than a few minutes and, in certain grassy areas a faint odour makes you realise you're standing in the middle of the neighbourhood 'neko bathroom!'
Even leaving out your garden equipment isn't safe. Turn your back and next thing you know it's full of furry cuteness!
There are few different cat 'tribes' that live on the island and they have their own territories.
But considering how much growling was going when I was there, there's obviously still the odd turf war going on.
Unlike in Taiwan's Cat Village, the people who live in the town don't actively look after the cats, despite this though you'll still find most of the Ainoshima 'cat island population' in the small town the surrounds the port.
Which is good as it gives you an excuse to wander around the tiny wooden houses.
Backstreets hide shrines with gates and statues, gardens are filled with vegetables tended to by little old ladies. The men are working on the net-strewn fishing boats moored in the pretty harbour. Every corner has something that conveys the simple life people lead here.
Look up and you'll see eagles swooping overhead; look out to sea and the blue stretches for miles. And then you hear a miaow and you're distracted again by a kitty demanding adoration!
They're pretty compelling…but, if you have time, it's a good idea to take a wander. See, while the cats are the main draw to the island, it also has a few sights to encourage you to wander the 5.4 kilometre path that circles the island.
What Else is There to See on Ainoshima?
One of the most important sights, in historical terms at least, is the tumuli, an old tomb made of rocks you'll find in the east of the island.
Thought to date back to the 5th Century it's one of the finest examples of this kind of burial mound in the area and was designated a national monument in 2001.
Another cool sight for geology fans is Glasses Rock – an eroded rock arch in the middle of the sea just off the east coast of the island.
If you can't make it to this, don't worry, you'll get a great view of it from the ferry as you leave if you sit on the left-hand side.
The island itself is dotted with pretty houses, a few interesting shrines and lots of wildflowers, gorgeous sea views and as you get further inland, bird life and it would make a fantastic full day trip in summer.
I was here for the cats though, and with only two and a half hours on the island. I stayed mostly around the port taking around 200 pictures of cute furry things – like these…
Okay, I'll stop for a bit with the cat pics now…..let's talk logistics.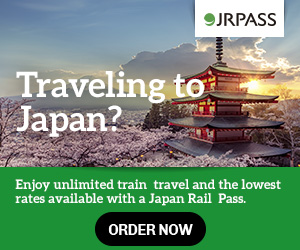 How Do You Get to Ainoshima From Fukuoka?
You catch the ferry from Shingu port which is about 40-minutes travel time away from Fukuoka.
The nearest station is Nishitetsu Shingu Station.
To get there from Hakata, take the JR Kagoshima line to Chihaya.
You'll then need to do a short walk to nearby Nishitetsu Chihaya station which is on the Nishitetsu Kaizuka line. Each sector of the journey will cost you 230 yen.
From here it's either a 20-minute walk to the port, or there is a local bus that runs to and from the port from the station for 100 yen.
You can find the timetable here (you'll need to translate it).
That link will take you to the summer timetable which runs between April 1st and September 30th – if you're travelling between October and March then you'll find the winter timetable here.
In summer you'll want to arrive in plenty of time for your boat. The ferry only seats 150 people and apparently, it does get full.
If there are a lot of people, buy your ticket and then go and queue in the covered walkway that runs from the ticket office to the boat to ensure your spot.
Also, be careful in rough weather – when the seas are high they will only let people sit inside the ferry and that cuts capacity to just 80 people.
Watch out if you get seasick too – I went in February and it was a pretty bouncy trip. It's fairly short but I was glad I had some stomach-settling chocolate in my bag!
Getting to Ainoshima from Kokura
I wasn't staying in Fukuoka itself during this part of the trip but in nearby Kokura.
Now, according to a map I found in Kokura station, there's a direct ferry from Kokura to Ainoshima, but I only discovered this as I stood at the station waiting for the train I'd chosen to use to get there.
I therefore can't vouch of the service, but apparently, this is the timetable for the Kokura to Ainoshima ferry. I'd suggest double checking it before you try and travel just in case.
If you want to go the same way I did, train is your option. If you have a Japan Rail Pass, the quickest way to get from Kokura to Ainoshima is via Hakata in Fukuoka using the directions above,
I didn't have a rail pass on this trip so I choose to get the much cheaper direct local train which takes 50-65 minutes (depending on time of day). You get off at Fukkuodaimae Station. This costs 1100 yen.
Apparently, there is also a local bus that will take you to Shingu port from Fukkuodaimae station in time to meet the ferry but I only found about that while writing this post!
Note that link is for the summer timetable but if you're going between October and March you need the winter timetable which you'll find here.
If you miss the bus, it's a 40 -minute walk to Shingu port.
It's quite a nice walk through a lot of residential areas and farmland. It isn't paved the whole way but I felt safe walking along the road.
What Times do the Ferries to Ainoshima leave Shingu Port?
As I write this in March 2019, this is the ferry timetable (it also matches the online timetable as I'm checking the post in January 2023).
The first column is the time that the ferry leaves Ainoshima, the second is when it leaves Shingu.
The bit that starts with four are the summer timings (April to Sept), the bit that starts with ten (marked in red below and meaning October to March) are the winter ones.
Times do change though so if you want to check the current ferry timetable from Shingu to Ainoshima, it's listed here.
It's all in Japanese but if you don't have access to any translation apps, the first column shows you when the ferry leaves the island, the second one is when it leaves Shingu port.
The top part of the timetable is between April 1-September 30, the bottom half is from October to March.
How much does it cost to go to Ainoshima from Shingu?
It's 460 yen single fare for an adult and 230 yen for a child.
The day I travelled there was no-one manning the ticket booth and nothing on the machine in English so, at first I thought I'd bought a return ticket. I was a bit confused when they took it off me as I left the ferry.
Turns out it is a single fare and so you'll need to go to the ticket office on the island to buy your return ticket before you get back on.
I saw a few people who hadn't realised this having to run to the office so make sure you pick up your ticket before you try and board the boat.
The ticket office is in this building to the left of the ferry if you're facing the sea/boat.
Make sure you have cash as it doesn't take credit cards and there may not be a person around.
Can I buy cat food – it's Cat Heaven Island after all…
Probably, but don't.
You shouldn't feed the cats on the island – although I saw plenty of people doing just that in order to get better pictures.
However, it's bad for the cats.
Don't be that person. Photograph the kitties, pet the kitties if they'll let you, but don't feed the kitties.
Also, respect the fact that the island is someone's home.
The residents who live here didn't ask for it to become a tourist attraction so please don't litter, don't go onto their property, buy some things locally to help them out and respect the fact that they get priority on the ferry.
Are There Any Restaurants on Ainoshima?
There are four restaurants in the port, but when I was there not much was open. I'm not sure if that was because it was a Sunday, or, because I was there in February and so not exactly peak season.
The one that was open when I was there was Cafe Shima which serves a mix of western dishes like burgers and Japanese fare; the sushi restaurant said it should be open, but it wasn't.
Cafe Sun, which is located furthest away from the port has the most gorgeous view, but it was having a bit of a makeover the day I went so was also closed. I guess they were getting ready for the summer season.
There are a lot of drink vending machines on the port so you can at least pick up liquid.
Once you leave the port there's nothing obvious marked on the map so if you are venturing further afield I'd make sure you take a drink and any food you might need with you.
Is This the Only Cat Island in Japan?
No, while this is the cat island of Fukuoka, there are about 11 more in other prefectures of Japan.
The two most famous are Aoshima in Ehime Prefecture which you can reach by ferry from the wharf by Iyo-Nagahama Station north of the town of Ozu.
And Tashirojima, which is close to the town of Ishinomaki in Miyagi Prefecture. The closest big town to this is Sendai.

What to Read Next
If bunnies are more your thing, don't miss a trip to Okunoshima aka Rabbit Island. Read our ultimate guide to Bunny Island here. Unlike Ainoshima feeding the bunnies here is strongly encouraged and it makes for some very cute photos.
If you're staying in Fukuoka and looking for other fun things to do, then see our guide to cool things to do in Fukuoka
If, like me, you're staying in Kokura, then we also have a guide to fun things to do in this fabulous town. Find our Kokura guide here.
---
Who Writes Differentville?
My name is Helen Foster and I'm a journalist and author living in Sydney.
My travel articles have been published in titles including The Australian, Body & Soul at the Sunday Telegraph, RAC Horizons, Jetstar magazine and more.
I like the weird, the wonderful and anything that makes me jump and down with glee like I'm about three. That's what you'll find here.
Disclosure: Some of the links in this post are affiliate links which mean I earn a small commission if you use them to book. This does not cost you any extra.
My trip to Western Japan was hosted by the Japan National Tourism Organisation who paid for my flights and hotel and organised the itinerary. However, they have not had any input into what I write about, or what I say about it, all opinions and excitement are mine, mine, mine.
Sharing is Caring
If you liked this post about the cats of Ainoshima island, why not share it so other folk can go and see the kitties too.