Kokura is a fascinating city in Western Japan. Saved, through chance, by destruction from atomic bomb, it has castles, pufferfish dinners – and an entire museum full of toilets. Check out our guide to the fun and unusual things to do in Kokura.
If at this point, you're saying Koka what ra, I don't blame you. Kokura is not the best-known town on the island of Kyushu in Western Japan. I hadn't heard of it either until I ended up there for two nights. For that, you can thank the Korean boy band, BTS (cue loud screaming). And I do thank them because I got to see a really cool town in Japan I'd never have visited otherwise.
Disclosure: Some of the links in this post are affiliate links which mean I earn a small commission if you use them to book. This does not cost you any extra. In addition, my flights for this trip were paid for by the JNTO – see below for more details.
You see originally, I was supposed to be staying in Fukuoka, the biggest town in Kyushu and about 60km away from Kokura, but, because BTS (cue screaming again) were playing Fukuoka the weekend of my visit I could not get a hotel room for less than £300 a night.
The nice algorithm at booking.com, therefore, suggested I consider Kokura and realizing it was only a 16-minute, $10 train ride away from Fukuoka (and I could book a hotel for around £60) I took their suggestion.
A short google later I realised I'd struck gold – this looked like it was going to be a cool little town full of quirky things to visit – and I was right. So, now you know how I ended up there, here's my list of the fun and unusual things to do in Kokura for your trip…
1. Go to The Library
No, I haven't gone nuts and suggest you spend your trip trying to check out a book – just trust me here. This needs to be on your list for Kokura sights.
Yes, it's quiet, yes, it has books (in Japanese) – but Kitakyushu City Library is also created by architect Arata Isozaki, winner of the 2019 Pritzker Architecture Prize (and designer of the Museum of Contemporary Art in Los Angeles) – and he's excelled himself.
The building was built to look like it was housed in old pipes – and from above it really does look like a really large U-bend – but inside, it makes it more like a cathedral than a council building.
Don't worry about going in, the staff were really smiley and when I got a bit lost trying to find the vaulted ceilings, knew exactly where I was going and pointed me to the right staircase.
Arata was also responsible for the cool look of the International Conference Centre in Kokura, which is also worth a quick detour if you're in the area.
2. Find the Pasta-Headed Folk
These were not on my original list of things to do in Kokura, I just stumbled across them while walking across the Komonji-dori bridge (the part over the main Murasaki River) to Tanga market – but look, they're fantastic!
As hard as I google I can't find out anything about them or the artist, so instead just marvel at the fact that there is an entire line of them just standing there with penne for a head.
If you know anything about them please tell me in the comments as I'm fascinated.
3. Nibble Your Way Round Tanga Market
I love markets and Tanga in Kokura was one of the most photogenic I've visited in Japan so far (and much better than the one in Fukuoka in my opinion).
I was there about 1 pm on a Friday and everyone had obviously done their shopping for the day which gave me the chance to wander around soaking up the amazing old signs and retro feel of the place.
Tanga also has something very unique you can do there though – it's called Daigakodo and it sees you going into the restaurant of the same name in the middle of the market where you purchase a cup of plain rice. You then wander around the market topping this up with goodies from the other stalls – and return to Daigakodo to eat it.
They are open from 10am to 5pm – unless they run out of rice. They're closed Wednesday and Sunday.
Another place not to miss – the cute dessert place on the left just as you enter from Koniji Dori. She makes Happy Piggy Pudding – custard desserts in cute little pots with pigs on the top – I totally bought it for the name and the pig shape but it was absolutely delicious.
4. Eat The World's First Yaki Udon
This was one of my favourite things to do in Kokura and it's hidden behind this curtain.
Legend has it that one day after the war, the proprietor of this restaurant, Darumado, wanted to make yaki soba, but, they didn't have any soba noodles – just some udon, so they fried those instead. People liked it and history was made.
The original owner has passed away, but the shop has been taken over and aims to continue the tradition.
You can see the full story of my visit to the restaurant (and how to find it) here.
You'll also learn about Kokura's lucky escape from the atomic bomb that hit Nagasaki in this post too.
Told you it was a cool place to visit.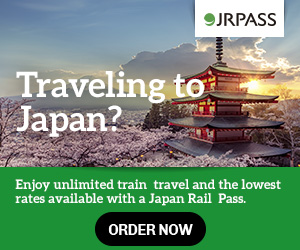 5. Visit Japan's First Covered Shopping Street
If you walk directly north from Tanga market on your way to find Darumado, you'll come to a covered shopping area called Uomachi-Gintengai.
You might not notice it while you're doing you're Kokura sightseeing – now, it doesn't look much, the same thing as you now find in pretty much any big Japanese town, but back in the 1950s, when the arcade opened, it was a revolution.
This was the first shopping street in Japan to have a roof. Suddenly, people could shop without getting cold, wet or sunburned!
Today it's full of cute shops, tiny restaurants and places to stop for a beer – including one of the original outposts of global matcha chain Tsujiri. Stop here for all your green tea needs like cakes, ice cream – and yes, tea itself.
6. Be Scared by Fugu
Kokura and the nearby Shimonoseki region are renowned for Fugu – the potentially lethal blowfish. You'll even find fugu sold in motorway rest stops in and around the region which I admit freaked me out a bit!
I also spotted it for sale in Kokura Market and there are a number of restaurants that sell fugu in Kokura itself.
While the flesh itself is not dangerous, the skin and some of the other organs do contain a deadly toxin – and you don't need a lot of it to kill you. Even just a bit spread by the wrong cut of a knife could do it.
Anyone who wants to serve fugu must have a certificate saying they are trained in preparing the fish. If you're going to try fugu anywhere, make sure it's someone that knows what they are doing.
I didn't try it in Kokura, but I did try it elsewhere on this trip and to be fair, it didn't really taste of much. The tingly sensation people say happens when you eat it only comes from flesh carved very close to the heart and liver – and only the most specialist fugu restaurants risk selling that.
7. Check Out Cha Cha Town
The name alone is fabulous, but if you're looking to do some souvenir shopping in Kokura, also has all the fantastic Japanese shops your heart desires and a 50m high Ferris wheel on the top that gives you a view over Kokura and the surrounding area.
The other big mall in Kokura is the Riverwalk Kitakyushu which has more chain stores and big name brands.
8. Head to Kokura Castle
In most places visiting a castle would not be a fun or unusual thing to do – but, there are only 12 intact castle towers left in Japan – so actually, seeing one is pretty unusual.
Admittedly, this one isn't exactly as it should be – the original castle built in the 1600s burned down in 1866 and the designers got a bit creative with the rebuild but it's still pretty impressive.
Kokura Castle has also just undergone a restoration which means it's now brand spanking new.
If you're here in April this is also THE place to see cherry blossoms in Kokura.
Oh, and if castles are your thing, you might want to also think about going to Matsue on your Japan trip – it's another really cool town, but undiscovered by most Westerners. Check out my Matsue Guide here.
9. Ride the Monorail
It takes just 18 minutes to go end to end on the Kitakyushu monorail but it gives a chance to see further afield than you might otherwise go – including some nice views of the mountains around Kokura.
In true Japanese fashion, the trains are all decorated with the logos of sponsors – which occasionally means some cute cartoons or cool anime/manga characters.
One which note…
10. Visit The Manga Museum
AruAru City is Kokura's centre of anime and manga. Five storeys' high it has all the Gachapon machines, manga books, figurines and Cosplay your heart desires and it houses the Manga Museum on its fifth floor.
You'll also find these some interesting manga statues just outside the station on your way to AruAru. Manga genius Reiji Matsumoto, creator of films like Galaxy 999, runs the museum (he grew up in Kokura) and there are three statues of his characters Maetel, Tetsuro and Captain Harlock by the North exit of the station
If you're not sure of the difference between manga and anime, have a look at Differentville's sister blog Japlanease which is all about Japan – and, this post on manga vs anime where I try and explain things.
11. Walk Over the Cute Bridge
Not the one with the pasta folk on it, this one is Tokiwabashi Bridge and, it's the old wooden bridge that used to divide one side of the city from the other.
There's an information board by the side of the bridge which shows you how Kokura looked when it was built.
There are also some nice older houses and cute shops on the castle side of the bridge.
12. Go the Toto Toilet Museum
I admit, I failed you here – I had all good intentions of getting there, but I was tired and it was February so I was very cold – and, I didn't make it.
However, Japanese toilets are famous around the world – and Toto are the creators of the magic washlet, that, if you haven't tried it will quickly become one of those 'only in Japan' moments you remember forever. Never has pushing buttons in a bathroom led to so much fun! There's sound, there's water, if you've got a swanky one there's even perfume!
The Toto Toilet museum shows off the Toto range in a rather fantastic futuristic building – and gives you the chance to say you went to a toilet museum on your holidays which frankly, never gets old.
The Museum is open from 10-5pm every day but Monday. Visit their website to see what's on offer and get exact directions.
A Few Less Specific Extras
Because it survived bombing in the war, Kokura has lots of old buildings dotted around the citythat were cute to photograph – and a weird red light district.
I say weird as I wandered into it in the middle of the afternoon trying to get to the castle – there was barely anyone around except all these very large Japanese gentlemen in thick overcoats standing outside the bars – all of him bowed very reverentially as walked past.
I then realised that they weren't outside normal bars! It was not what I was expecting to find while just wandering about – but, hey, at least I felt super safe.
At night the town is full of cute looking bars and restaurants – and has a branch of the famous Ichiran Ramen chain which had NO QUEUE! This is definitely unusual as it's normally packed.
I, however, had arrived that morning at 5 am via a night flight and so by 6 pm, all I wanted to do was crash in my hotel room with a 7-11 egg sandwich and a Zima (my usual first night ritual in Japan) – which is exactly what I did.
Talking of hotel rooms…
Where to Stay in Kokura
I stayed at the APA Hotel Kokura Ekimae and while the room was small, it was perfect for one person – clean and comfortable and the staff were incredibly helpful.
If you like the sound of it, click here to book or just to check reviews and prices.
The APA is also a very short walk from Kokura station – in fact, if I had the window open I could see and hear some of the platforms from my room (with the window closed it was silent and even with it open, the noise was fun not disruptive).
I loved hearing the little song that played as the trains departed. It really made me feel like I was in Japan.
What to Read Next
As I said, my original plan was to visit Fukuoka, so the next morning, I jumped on the bullet train from that very station to explore Fukuoka – and, if you want to know what fun and unusual things I found to do in Fukuoka, you need to click the link – trust me, there were a lot of them (including an entire island full of cats).
If you've just perked up at the words, island full of cats, you can also find the longer post I wrote on that. It's called Ainoshima and you'll find all the cute pictures at that link.
Disclosure: Disclosure: Some of the links in this post are affiliate links which mean I earn a small commission if you use them to book. This does not cost you any extra.
As stated, my flights for this trip were paid for by the Japan National Tourist Organisation as part of a trip to Western Japan. However, they did not pay for my accommodation or, have any input into the itinerary of the Kokura part of my trip or anything I'm saying about it.
---
Who Writes Differentville?
My name is Helen Foster and I'm a journalist and author living in Sydney.
My travel articles have been published in titles including The Australian, Body & Soul at the Sunday Telegraph, RAC Horizons, Jetstar magazine and more.
I like the weird, the wonderful and anything that makes me jump and down with glee like I'm about three. That's what you'll find here.