Today in Japan, and, in Japanese restaurants all over the world, the idea of frying udon noodles to make yaki udon is normal – but, if local legend is to be believed, we can thank a tiny 8-seater restaurant in Kokura, Western Japan for the invention of the dish. I popped along to try a plateful of history…

Disclaimer: My flights to Japan on this trip were paid for by the Japan National Tourism Organisation as part of a trip to Western Japan. See more details below.
Kokura is situated in western Japan on the island of Kyushu. It's about 60km west of the main town in these parts, Fukuoka, and almost at the point where Kyushu island joins Honshu, home to the cities of Tokyo, Kyoto, Osaka etc.
If history had been different, Kokura and this tiny restaurant, might not be here now. On the morning of October 9th 1945, a B-52 bomber called Bockscar set off to, frankly, annihilate it.
The bomber carried a nuclear missile known as Fatboy and a munitions storage area in Kokura was its target. However, as it came into the city, a haze or fog stopped the pilot from dropping the bomb.
After a few failed swoops, he instead went to target two – a town about 200km west called Nagasaki. The rest is history.
How Yaki Udon Was Invented
While Kokura escaped this bombing, it didn't escape the hardships of war and, in 1945, provisions in the town were scarce.
According to the story written on the back of the menu at Darumado (that's how the name of the restaurant that invented yaki udon translates in English), it was this rationing that changed noodle eating as we know it.
The tale goes that one day after the war, the restaurant wanted to make yaki soba- a dish of fried soba noodles with vegetables – but, at that time in Kokura, there was no soba to be found. They did however, have some cut up dried udon noodles and so rather than let them go to waste they tried frying those instead.
It worked, people liked it – and so they added it to the menu.
The tiny store in an alley off of Kokura's main shopping mall is still serving up its famous dish over 70 years later.
When I arrive at Darumado, I'm not sure if it's open. It's about 2.30 in the afternoon and many other shops in the tiny alley in which the shop is located have stopped serving lunch.
The noren, the traditional curtain over the door of a shop or restaurant in Japan (that serves partly as the store sign and partly as a barrier to the outside world), hides whether anyone is inside, but I lift it to peep in.
Through the dusty window, I see the old lady who runs Darumado today.
Sitting behind the counter she's dressed in simple brown dress and a long blue apron, chatting to a man quickly forking up a plate of noodles.
I smile and make what I hope is the internationally recognised sign of 'are you open.' She smiles back – I'm in.
The thousands of dishes served up from that simple hot plate have left their mark on the tiny room. Everything is coated with a fine layer of grease and smoke.
As I sit, a tiny beetle skitters across the counter, only to swiftly squished by the owner – she might be stooped over the grill and her hands shake a little as she serves my meal but there's clearly nothing wrong with her eyesight or reflexes.
The menu is small – just five items – plain yaki udon, yaki udon with egg, rice, sake and beer.
I'd asked someone to translate it for me before I left, but I didn't need to.
As soon I sit down, the old lady rises from her chair and starts to cook on a tiny hotplate hidden behind the counter. She's decided what I'm having.
She reaches for noodles and ready-chopped cabbage – a spray of water on the hot place sends a plume of smoke up into the air. She brushes the dish with a thick black sauce – and then within a matter of minutes, the plate appears – a steaming plate of charred noodles as steeped in history as it is flavour.
The other diner pays his bill and heads out the door leaving just me and her in the tiny room.
I ask her if it's okay to take her picture and she nods. I notice a picture high up on the wall as I snap and ask if it's her in this photograph too – she nods.
I translate what's written underneath. It's a write up of the restaurant and the picture shows her standing over her hotplate smiling. There's a date on it, 1937 which I take to be the year she was born and what looks like a name – Chiyoda Sakata.
The article talks about how she was born in Kokura and how the taste of the noodles has never changed since the day they were invented. It also tells that even when this was written people were coming from miles around with their guide book in hand to taste the original yaki udon.
I wish the other diner was still here so I could ask more; to see who originally came up with the dish, whether she's ever wanted to change things up a bit, to find out more about her life – but instead, I just eat.
The noodles are simple – just enough to take away my hunger. It's clear that even as the harsh years after the war passed and Japan become more prosperous this tiny shop has felt no need to add big portions of meat or extra tofu to the mix – mine is just noodles, cabbage and onion.
It's not gourmet, but it's tradition – so, why mess with it.
Filled with food and a sense of history I pay my bill and leave. My host settles back down in her chair to, I hope, have a well-earned afternoon rest before the shop closes at 6pm.
If 1937 really is her birthdate on the article, she's 81/82 now – and was around eight when the shop first started serving its iconic dish.
It dawns on me that one day, she'll no longer be here to serve it – I'm glad I got the chance to try it while she does.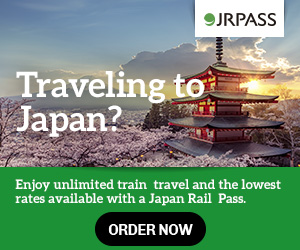 Darumado Today
As I update this post in 2023, I discovered that Sakata san passed away in Dec 2019 so I was exceptionally lucky to meet her.
Descendants of it's original owner have given the shop over to a group called Ogura Yaki Udon Research Institute and given it a bit of a makeover.
They're also bringing it into the modern world with stalls around Fukuoka and a Facebook page, but they are keeping the original taste and recipe.
The Facebook page is a good place to check that the store is open in times of inclement weather or Japanese holidays.
How to Find Darumado,The Birthplace of Yaki Udon
The shop address is 1 Chome-4-17 Uomachi, Kokurakita-ku, Kitakyūshū-shi, Fukuoka-ken 802-0006, Japan but, as that probably doesn't mean much unless you're Japanese, or very good with Japanese addresses, a better way to find it is to locate a bar called The Peach Pit on google maps.
Just slightly north of this you'll see a small alley that runs from the road to a covered shopping precinct.
There's another restaurant here called SUGANOTEI – opposite this is where you'll find Darumado.
It's marked as this – だるま堂 – on the map.
It's open six days a week – closed Wednesday. Exact hours vary but it's always open from noon to 6pm – a little later on Friday and Saturday.
A simple yaki soba is the first dish on the menu and costs 460 yen.
What to Read Next
If you're spending any time in Kokura, then have a look at our guide to things to do in Kokura which might give you some ideas on fun ways to spend your time.
The nearest big town to Kokura is Fukuoka and if you're planning to spend a day or two there have a look at our guide to unusual things to do in Fukuoka.
If you like the story of Darumoda, you might also like to read to our piece on Nadeshiko restaurant in Tokyo which is run by a female sushi chef, quite the rarity in Japan.
---
Who Writes Differentville?
My name is Helen Foster and I'm a journalist and author living in Sydney.
My travel articles have been published in titles including The Australian, Body & Soul at the Sunday Telegraph, RAC Horizons, Jetstar magazine and more.
I like the weird, the wonderful and anything that makes me jump and down with glee like I'm about three. That's what you'll find here.
Sharing is Caring
Like this story about how yaki udon was invented in Kokura – then why not share it on social media.

Disclaimer: My flights to Japan on this trip were paid for by the Japan National Tourism Organisation as part of a trip to Western Japan. I, however, paid for my own hotels and set my own itinerary for the Fukuoka part of the trip.
The JNTO also have no input into what I am writing about or what I'm saying about it – we're just as independent and quirky as ever here at Differentville – we just got to go and find a heap of cool stuff we might not have done on our own.
Expect to see posts on all that coming soon so, if you're interested in Western Japan, sign up to get posts as we add them.