Its official name is Okunoshima but it's better known as Bunny Island or Rabbit Island – a magical land just off the coast of Japan where over 1,000 bunnies run free, demanding snacks, cuddles, pats and selfies with the people who come to visit them every day. Yep, it's as cute as you think.
'Don't sit on my head,' is not a phrase I utter that often on my holidays, but there again, nor do I normally spend my holidays lying on the ground with about 20 rabbits climbing on me, but, there's something about Rabbit Island that makes you a slave to the floppy-eared, twitchy-nosed ones – and if they want to climb on you, who are you to complain about a bunny butt or two in the face!
Disclosure: Some of the links in this post are affiliate links which mean I earn a small commission if you use them to book. This does not cost you any extra.
I first visited Bunny Island in 2018, but I'm planning another trip right now and so this post has been updated with new ferry and train times and up to date pricing.
Why is The Island Full of Rabbits?
Now there's a question.
You see Bunny Island wasn't such a place of joy and carelessness. Originally home to a factory that manufactured chemical weapons during the Second World War, Okunoshima's existence was top secret for a long time.
After the war, the island was left empty, and at some point, the bunnies moved in – although exactly how an island with such a dark history ended up overrun with rabbits no-one knows.
Rumours that they were descendants of bunnies used on the island to test the gas have been dispelled and no-one has proven the second theory which claims that a school trip decided to drop a selection of bunnies out here (erm, why?).
However they got here though, over time the bunnies ended up doing what bunnies do. With no predators on the island they thrived and, behold, the island turned into the fluffy paradise it is today.
Are They Friendly?
I'd been wanting to come to Rabbit Island for years but I admit, even I wasn't expecting the bunnies to be so friendly.
If you've got food, they want to meet you. Just sit down on the floor, or sprinkle some food into your hand and bend down palm outstretched and within seconds someone will hop towards you; friends quickly hopping along behind them so they don't miss out
Bring yourself to look up from the little furry faces and outstretched paws demanding more food (some of them actually hold your hand while they snack so you don't forget they are there) and you'll also notice that Okunoshima is incredibly beautiful.
It's surrounded by bright blue water and, if you walk up the hill into the tree-lined pathways it's absolutely silent. Walk around here on a weekday morning and it literally is just you, the bunnies, trees, sand and bright blue sea melting into bright blue sky as far as the eye can see.
Hang on, I think I just described heaven!
So, now you're immediately rearranging your Japan trip to visit Rabbit Island, here are all the useful details to help you get there and have a great day.
How To Get to Rabbit Island, Japan.
The usual way (and the way we went) is to pick up the rabbit island ferry that goes to Okunoshima from the port of Tadanoumi on Japan's southern coast.
These run at least once every hour (although the exact intervals are a bit ad hoc) and take 15 minutes to reach the island. It costs 720Y for a return adult journey, 360Y for children.
You'll find the latest ferry times and other information at the official Rabbit Island website.
Trains run regularly from Tadanoumi from the main bullet train station at Mihara. Once you reach the station it takes about 10 minutes to walk from Tadanoumi station to the ferry port and the Rabbit Island ticket office/visitors centre.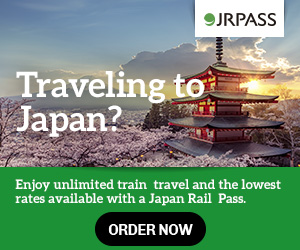 The New Way to Rabbit Island From Mihara
In 2017 an alternative route to Okunoshima appeared. A new fast ferry to Bunny Island started running at weekends from the port of Mihara itself.
Known as the Rabbit Line it costs 1600 yen single or 2600 yen for a return and takes 30 minutes from Mihara port.
We went in the week and so couldn't try this, but depending on train connections it could be a better option as it cuts out having to get the somewhat infrequent local train from Mihara to Tadanoumi.
There are four ferries a day, the first one is at 9.20 and you can book tickets in advance. You can buy them on the day thirty minutes before sailing time at Mihara, but I don't think you can buy them at Bunny Island for the return leg.
However, weekends are a seriously busy time on Rabbit Island and so it's probably better booking online to ensure your place. At least if the ferry from Tadanoumi is full there's another one fairly quickly – on the Rabbit Line you'll be waiting over an hour.
Here's where to find their page in English including a link to where to book the tickets.
How Much Does It Cost To Visit Bunny Island
The magical world of bunnies itself is free. Once you've bought your ferry ticket, you're good to go. The only extra thing to pay for is if you decide to visit the Poison Gas Museum while you're there which costs 100 yen for adults.
How Do You Find the Bunnies?
Walk onto the island – look left or right. They literally are everywhere. I admit I was a bit amazed by this as I was expecting to have to at least walk a little bit into the island to admire the cuteness but no – they're just waiting for you at the ferry port!
This doesn't mean you shouldn't explore though – wander around the island and you'll find bunnies of all shapes, colours and sizes with a variety of pretty backdrops to photograph them against like sand, sea and shrines.
We were there in May so it was also baby bunny season – and while they aren't quite as used to humans yet, they're learning fast.
You aren't allowed to pick up the rabbits, but don't worry. Sit down with a bag of food and they'll climb all over you anyway!
What Do The Bunnies Eat?
You can buy bunny food at the Visitor's Centre at Tadanoumi for 100 yen a bag. We had ten bags between two of us (see below for why we needed quite so much!). You can't buy bunny food on the island so do stock up before you go.
We did notice that people who were arriving with fresh veggies were getting all the love and attention but actually, there are a lot of vegetables rabbits can't eat or that they should only eat sparingly (including cabbage which we did see someone feeding them) so unless you know your bunny chow it's best to stick with the official food. There is no-one on the island looking after the bunnies so if they get sick, they won't end up at a vet.
The bunny food comes in paper bags, please return the empty bags to the mainland.
What's the Nearest Big Town to Bunny Island?
Hiroshima is probably the closest town on most tourist itineraries. The trip from Hiroshima can take as little as an hour to get you to Tadanoumi if you pick the right train.
We, however, chose to stay at Okayama which was an hour and twenty minutes away from Tadanoumi by the bullet and local trains.
Okayama is famous for its castle and one of the largest gardens in Japan but we didn't get to see either of those things as it's also an easy journey to Naoshima, the Art Island famous for the giant pumpkins that was our previous stop.
We picked the Mitsui Garden hotel as it was steps away from the station entrance.
On Bunny Island day we left our Okayama hotel at 7am and were on Okunoshima around 10am.
It's a good idea to get there early if you can as the rabbits can get a bit full if its a busy day for visitors – and full bunnies just want to sleep under the bushes!
I'm currently planning a second trip to Bunny Island and for this one we'll stay at Fukuyama as we need to get to back to Osaka afterwards and it seems the connections are a bit better from there, so do double check both towns.
The Daiwa Roynet is near the station.
You can also stay in Mihara, but accommodation near the station is very limited and gets booked up quite in advance.
If you want to try it, the best bet is the Super Hotel Mihara.
Can You Visit Bunny Island on a Day Trip from Tokyo/Kyoto/Osaka etc
It's doable from all of them….although the last two are probably more realistic. Here's one option on train timings for all three major cities (accurate the day I write this but double check everything on an app like Navitime which will show you timings and prices).
From Kyoto to Okunoshima
Leave at 7.20 and get to Tadanoumi for 10.09. Get the 10.25 ferry. Get the 14.25 ferry off the island. Get on the train at 15.18, arrive back in Kyoto at 19.02.
This is covered by the Japan rail pass – you might also be able to do it faster on the Nozomi bullet train which isn't on the pass but it will be pricey.
From Osaka to Okunoshima
Leave at 7.35 and get to Tadnoumi for 10.09. Get the 10.25 ferry, get the 14.25 ferry off the island. Get on the train at 15.16 and arrive back in Osaka at 18.28.
Again, this would be covered by the Japan Rail Pass, you might be able to do it faster on the Nozomi.
From Tokyo to Okunoshima
According to my research, you can only do this in a day using the Nozomi trains which are not included on a Japan Rail Pass and the return fare will be just over $35,000 yen so you might want to break the journey and find a way to do this on a Japan Rail Pass, but if you do want to try it, here's one option on timings…
Leave at 7.09am, arrive Tadnoumi at 11.55. Catch the 12.20 ferry to the island (weekends only), in the week you might be lucky and get the 12.00 if you really hurry, otherwise, you have to wait until the 13.25. Cuddle bunnies until the 16.35 ferry. Get on the train at 17.31, arrive back in Tokyo at 10.36pm
Can You Sleep on Bunny Island?
There is a hotel – I haven't actually stayed in it, but if you like the idea, here's where you'll find the rooms and rates.
The hotel has mostly Japanese style rooms and only two Western rooms.
It also has a hot spring for soaking away any worries the bunnies haven't cured and the restaurant serves a buffet-style breakfast and evening meal for guests.
There's also a campsite.
Can You Store Luggage on Bunny Island?
You can store it at the Visitors Centre at Tadanoumi where you buy your ferry ticket. It costs 500 yen for the day.
The Visitors Centre used to just literally be a ticket office but it's been upgraded and includes all sorts of bunny souvenirs, snacks, drinks, luggage storage and photo sticker machines where you can amuse yourself as you wait for the ferry taking photos of yourself making bunny ears!
What Is There to Eat on Bunny Island?
Not much – if you want a cooked meal, the hotel restaurant is your only option. It's open to non-guests at lunchtime.
Last time my friend, Kendall, came to the island it was raining and so they had lunch there to warm up a bit. She said it was okay and not stupidly expensive considering they have a captive market of hungry humans.
We, however, came armed with snacks picked up from the 7-11 at Okayama, you can also pick up drinks from the vending machines at the ferry port at Tadanoumi.
If you have time to kill before the ferry there is a FamilyMart on the lefthand side of the station and also a grocery store in Tadanoumi town – it's remarkably well stocked with carrots!
There are also a couple of cafes in town now so check opening hours for those.
Is There Anything Else to do on Bunny Island?
Erm, I don't understand the question – there are bunnies everywhere who want cuddles – what else would you need to do?
No seriously, as cute as the bunnies are Rabbit Island is pretty small and you can walk from one end to the other in about 20 minutes so. you probably only need two hours to feed all the bunnies your heart desires!
The rest of the time you can soak up the sun and scenery sitting around the island – there is also a swimming beach with towels to rent if it's warm enough.
Another option is to get to grips with Okunoshima's grisly past at the small Poison Gas Museum or for moody urban bunny shots check out the ruins of the abandoned power station close to the port.
You'll also find other remnants of the gas factory dotted around the island. They're all fenced off, but again, make for some moody photos.
Is there Wifi on Bunny Island for Immediate Instagramming?
There is if you're hooked up with a local SIM card!
I booked mine in advance via Klook and picked it up at Narita airport. I paid $AU27 for 8 days (3BG) and I had absolutely no problems with the service.
It also comes in very handy for checking train and ferry times if you do decide you want to leave early or spend more bunny time!
What happens if you lie down and cover yourself with bunny food….
This!
What to Read Next
Bunnies are cool, but if you like cats too you might also want to check out our post on Ainoshima. This is a cat island close to Fukuoka in Japan.
Japan is also full of cafes that let you meet cute animals. Check out what happened when we visited Chiku Chiku one of the hedgehog cafes in Tokyo.
We also met some otters at a cafe in Fukuoka. They're surprisingly noisy. Find more details in our guide to fun things to do in Fukuoka.
Moving outside Japan, there's an island full of cute marsupials called quokkas just outside of Perth in Australia. They smile for selfies – see the cute pictures here.
---
Who Writes Differentville?
My name is Helen Foster and I'm a journalist and author living in Sydney.
My travel articles have been published in titles including The Australian, Body & Soul at the Sunday Telegraph, RAC Horizons, Jetstar magazine and more.
I like the weird, the wonderful and anything that makes me jump and down with glee like I'm about three. That's what you'll find here.
Sharing is Caring
If you like this post why not share it on social media – the bunnies will be happy if you do!