Naoshima Island is famous for it's display of bright spotty pumpkins – but there's a lot more to see there than pumpkins. Here's how to visit Naoshima in one day – and do it well.
When I decided to add a day on Japan's Naoshima Island to our latest trip, I really didn't know anything about the island except that it had giant spotty pumpkins on it.
In fact, one glimpse of the bright yellow Naoshima pumpkin and I was sold.
Only when I started looking into what else was on the island did I start to wonder, can you really see the giant pumpkins – and everything else on Naoshima Art Island – in just one day?
Okay, spoiler alert – yes, you can – if it's a very long day – but, if you think you're going to just turn up and wander about and get to see it all, you might need to rethink that plan.
Yes, while I'm aware that arty folks often like to be spontaneous, think of visiting Naoshima as like going to Disney World – you need to be prepared if you don't want to be disappointed.
With that in mind, I decided that rather than this post consisting of my ramblings about how pretty the giant yellow Naoshima pumpkin is (and it is sooooo pretty), I'd get useful…so, here is all the information I wish I'd had in one place when planning my one day trip to Naoshima.
Disclosure: Some of the links in this post are affiliate links which mean I earn a small commission if you use them to book. This does not cost you any extra.
Where is Naoshima Art Island?
Naoshima is one of the three art islands located in the Seto Sea off the South-east coast of Japan.
Naoshima is easy to reach as a day trip from Hiroshima or Okayama – which is the nearest large town to stay in – and can be done as a long day trip from Kyoto, Nara or Osaka. (more details on all these journeys can be found further down).
I wouldn't try it as a day trip from Tokyo
If you're planning a Japan itinerary and want to include Naoshima, it would be a good stop between Tokyo and Hiroshima.
What Art is on Naoshima?
Let's just say the pumpkin is only the start! There are in fact seven official arty things to do in Naoshima – and I'd say there's an eighth category as well. So, deep breath…you can visit..
1. The Art House Project
This includes six old houses in the town of Honmura that have been turned into art exhibits.
A ticket to see all five houses costs 1030 yen.
They don't let you take pictures inside the houses and as such, it's a bit of mystery as to what they contain until you walk through the door, which I quite liked. Suffice to say, they are all very different – some are very understated, others, have giant Statues of Liberty in them!.
You can get a basic feel for the houses here if you want to decide on what you think you'll like best, but frankly, I'd just try and see them all. It took us around two hours to walk around all the houses and explore the backstreets of Honmura.
There is a seventh house in the Art House Project called Kinza which has an extra 510 yen entrance fee – we skipped this as you have to book an appointment to see it and only one person can go in at a time.
If you're on a tight schedule and really want to see it you can book your slot in advance here. Do this as early as you can before your trip as you'll need to time your day around it.
2.The Benesse House Museum
This 3-storey concrete space has an incredible mix of innovative works including sculptures, painting and hybrids of the two.
3. Outside Art at Benesse House
I'll be honest, this was the bit I was looking forward to the most as I prefer sculpture in outside spaces over work in museums and it didn't disappoint.
There's some really stylish pieces that blend into the sea and sky that surrounds them – and some seriously bright pieces that stuck out from their lawn home like a fabulously abstract sore thumb!
It was raining the day we were there but we still wandered around this area for a good 30 minutes – if it had been bright and sunny we probably would have spent longer.
4.The ChiChu Museum
This underground museum contains three main works – a selection of paintings by Monet, a stunning looking piece by Walter De Maria and a piece by James Turrell.
That might not sound a lot for such a large structure, but the building, designed by architect Tadao Ando (also technically an artwork itself) uses light in ways that display the pieces like nowhere else on earth.
Entry to Chichu Art Museum costs 2060 yen.
You can book timed slot tickets to Chichu which might be worth doing in high season to reduce how long you have to queue for or the risk of it being completely sold out on the day you arrive. Tickets go on sale roughly two months before the month of entry starts (so March tickets go on sale mid January).
There's also a sunset viewing of the James Turrell piece on Friday and Saturday nights that you can book for if you're staying on the island late in the day (or overnight).
You can reserve this up to three months in advance, and it costs 1000 yen on top of the museum admission. It lasts 80 minutes though so if you're not staying on the island overnight, check the start time (it's around sunset) and the time of the last ferry/train carefully.
---
Did you know that there is a hidden piece of James Turrell's work in Las Vegas? Find out more about it in our guide to art in Las Vegas.
---
5. The Lee Ufan Museum
Dedicated to the work of Korean artist Lee Ufan who works a lot with large stones, canvasses and big open spaces. This costs 1030 yen.
6. Naoshima Bathhouse
I think someone was drunk when they came up with this idea! It's a public bath (also known as a sento), with art in. So, if you want to see stuff, you will have to get nekkid.
It costs 650 yen to go into the Naoshima Bathhouse.
7. The Ando Museum
The architect Tadao Ando is intrinsically involved with the look of Naoshima and so he also has his own museum on the island. It costs 510 yen to get in. Basically, it's what happens if you let a man who loves working with concrete loose inside an old traditional Japanese House.
8. Outdoor Works at Miyanoura
These are dotted around the main ferry area and include a red pumpkin, some small silver mushroomy things and the Naoshima Pavillion – a mesh-work that you can climb into.
But keep your eyes out for outdoor works all over Naoshima – there's a yarn artist working on the island who attaches things to buildings. We spotted little creatures made of cans dotted around Honmura and the bike racks at Honmura port are a sight to behold.
As you can see, there's a fair bit to look at and while I think you can probably see all the art on Naoshima in one day – if you don't want to spend too long staring at individual pieces – it's a good idea to decide what's a must do and what you'll be prepared to bypass if things don't go to plan.
Now, chances are, many of you reading this want to know just one thing…
Where is the Naoshima Pumpkin?
The yellow Naoshima pumpkin is probably the most Instagrammed piece on Naoshima Island.
Created by artist Yayoi Kusama, the Naoshima pumpkin is located about a one minute walk from the Tsutsuji-so bus stop.
When you get off the bus, look toward the Bennesse Museum and you'll spot it. It's on its own little jetty heading out to the sea.
Depending on how busy the island is the day you visit, you may have to queue for a pumpkin picture – we went off-season on a rainy day and so actually had the pumpkin to ourselves for a full five minutes (I just liked this picture with the Japanese lady in it!)
Hang on Didn't It Get Washed Away?
It did. There was a typhoon close to Naoshima in October 2021 and the pumpkin got washed out to sea and badly damaged.
For a while it wasn't known if it would come back to the island, but, a new pumpkin was created in a hardier fabric and it made its way to it's new home in 2022.
There's also a second Naoshima pumpkin – a red one – that you shouldn't miss.
This is very close to the ferry port and so could either be the first thing you see on the island when your ferry arrives or, if you want the red pumpkin to yourself (you can climb inside this one) go when there's no ferry scheduled as the port area will likely be empty.
When Are The Exhibits Open?
So you know what's on Naoshima Art Island for you to see, you have to decide on what order in which to see things – which requires you knowing what's open when.
The most important thing to know is not to go to Naoshima on a Monday. It's mostly closed.
In fact, the only thing open is the Benesse House Museum (and the outdoor exhibits). If the Monday is a public holiday in Japan this changes and things close on Tuesday instead.
Benesse House Museum – 8am – 9pm (last admittance 8pm)
Outdoor works at Benesse and in town – 24 hours
Chichu Art Museum – open 10am-6pm (March- Sept), 10am-5pm (Sept – March)
Lee Ufan Museum – open 10am-6pm (March-Sept), 10am-5pm (Sept-March)
Art House Project – each house is open 10am-4.30pm.
Ando Museum – 10am – 4.30pm (last admittance 4pm)
Naoshima Bath – 1pm to 9pm
Theoretically, it's possible to spend from 7am to 9pm on Naoshima seeing absolutely everything. How feasible this is, in reality, will depend on where you're staying the night before/after.
Obviously if you are determined to see everything it might be a good idea to go to things that close earliest (or open earliest if you get to the island before 10am) first, also remember that Chichu can sell out, so if that's very important for you and you haven't booked in advance with the link above, go there first and be prepared to juggle your day around your slot.
What Else Can You Do in Naoshima?
Outside of the museums, Naoshima is a traditional Japanese island, and it has two main towns you can wander around – Honmura and Miyonoura. Take the time to do this.
The tiny backstreets weave around old houses, hidden shrines and secret gardens that peep out from open gates.
Honmura is easy to see as you'll wander the backstreets making your way between the Arthouse Projects.
Miyonanoura is kind of divided into two sides – the right-hand side close to the Naoshima Pavillion is quieter than the left where the Bathhouse is located.
If you're here in cherry blossom season, tucked away in the middle of the island is the Labyrinth of Cherry Blossoms, the most stunning display of trees by Tadao Ando, that you should try and make your way to.
In summer, there's also a swimming beach and a fishing pier on the island for those who really aren't into the exhibits. And don't miss trying the salt ice cream.
Unfortunately, with only one day on Naoshima, I think you'd struggle to do all the art and everything else on the island.
Note: There used to be a 007 Museum on the island – the island is featured in the book The Man with The Red Tattoo – but it closed in 2017 so strike that off your plans if you've read about it elsewhere.
Staying on Naoshima
If you want to see all the other cool things on Naoshima too, I think you need to stay overnight. If you agree, here's where to find and book Naoshima accommodation.
Do You Need to Be Arty to Enjoy Naoshima?
No – I like art but I'm not passionate about it (I admit, if the Naoshima pumpkin hadn't been there the island probably wouldn't have been on my radar at all) and I loved the place. It's innovative, quirky and utterly unspoilt despite the many tourists that visit every year.
The island itself is beautiful and I loved walking around the quaint little towns as most of the time I'm in Japan I tend to be in big cities. This made a refreshing change.
How Do You Get to Naoshima Island?
You get the ferry from the town of Uno. It costs 990 yen return.
How to Get to Uno
Uno is connected by local train to the bullet train stop at Okayama making it totally possible to visit Naoshima Island on a day trip from Kyoto (that's what we did, check out my guide to quirky Kyoto here), Osaka and Hiroshima.
All of these train journeys are covered by the Japan Rail Pass (click to order one here)
If you only want to travel around this area you might also be able to use the 5 Day JR Kansai pass which covers Osaka, Kyoto, Okayama, Uno, Kobe and Himeji.
It's a lot cheaper than the Japan Rail pass but does come with a few extra restrictions. If you're interested though you can find the details on the 5 Day JR Kansai pass here.
If you're still a bit confused about the whole rail pass thing, then, once you've read this, head over to our sister site Japlanease and check out our post on is the Japan Rail Pass Worth it For Your Trip?
Getting to Naoshima from Osaka, Hiroshima
Osaka and Hiroshima are just over two hours away – plus ferry, Kyoto is 3-4 hours away depending on how lucky you get with train and ferry connections – one reason we couldn't see everything was that we came from Kyoto and didn't arrive until gone 11am.
Wherever you start out, the train from Okayama to Uno takes about 50 minutes – sometimes you have to change at a town called Chiyamachi, but don't panic, it's literally stepping off one train and onto the one waiting/arriving on the opposite platform.
Getting to Naoshima from Tokyo
I wouldn't try to visit Naoshima on a day trip from Tokyo unless you are very mad or very rich and can afford to pay for the super fast Nozomi trains.
It's going to cost you a few hundred dollars and take a lot of time on the train. If you want to come here from Tokyo at the very least stay overnight.
Getting from Uno to Naoshima
There are two ferries that go to Naoshima.
You can either go to Miyanoura Port – there are ferries roughly every hours, or Homura – which has just five services a day – but if you buy a ticket on one service, it's also valid from the other.
If you therefore really want to save time you could come into Miyanoura and leave from Honmura – or vice versa.
You'll find the ferry timetables here if you want to try and work out which option works best for you.
One thing to be careful of when you are planning is that the ferry actually meets a train at Uno.
We originally planned to stay on the island until the 7pm ferry, but then realised there was no connecting train until 8.28pm.
You can check train times on an app called Japan Travel by Navitime and before you go. I think this is a must-have if you're travelling around Japan by train.
If you do get stuck with a bit of wait either end at Uno, there's some cool artwork around the Uno Port itself. We took a bit of a liking to Garbage Fish here (look closely to see why we called him that).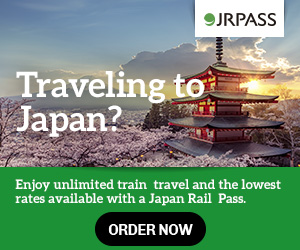 How Do You Get Around Naoshima?
When I first heard about the island I thought it would be an island a few kilometres square and you'd just wander from one exhibit to the next – but that's not exactly the case.
As you can see on the Naoshima map here, the exhibits are actually quite spread out.
At this point, I realised walking between them wasn't seeming completely feasible – particularly as we only had one day on Naoshima Island. There were, therefore, two options to get around bus or bike.
Hiring Bikes on Naoshima
This was my original plan. My feeling was this would allow us a bit more freedom to see other bits of the island – but, then I discovered you can't take bikes into certain areas so you'd have to walk anyway and picking up and dropping off the bikes just seemed to add an extra level of faffage to the day.
However, if you do want to hire bikes, it will cost 300 yen for a single speed bike (not recommended as Naoshima is hilly) and 1000 yen for an electric bike.
There are a few different places to rent from but this one offers booking in advance.
The bus was, therefore, going to be our primary transportation for the day.
How the Buses Work on Naoshima
This section might seem a little long, but when I was trying to work out how to get round Naoshima it was the internal transportation that flummoxed me most.
See there are two buses that get you around Naoshima – the public bus and the shuttle bus that takes you around the museums at the Benesse site.
The reason I was flummoxed was trying to work out if I actually needed to get the second bus as it doesn't actually run that often.
I could see a lot of standing around uselessly wasting time – the good news is, you don't really need the shuttle bus unless you're going to Chichu.
Useful Facts About the Public Bus
The public bus runs from Miyanoura Port where the ferry drops you off. It goes past Honmura where the ArtHouse Project is and then continues on to Tsutsuji-so, the stop you need for the Benesse Art Museum, Chichu Art Museum and the Lee Ufan Museum. Coming back it does the same route in the opposite direction.
2. It takes seven minutes from Miyanoura to Honmura and four minutes from Honmura to Tsutsuji-so.
3. It's not the biggest bus in the world – we were in Naoshima on a weekday in the rain so not exactly peak season and it was a job to get on. My best advice is to wait at stops with large changeovers – like the main Honmura stop or Tsutsuji-so – which maximises the chance of getting on.
4. Also, check if you need to hurry for the bus when your ferry arrives. Our ferry got in at 11.20 and the bus left at 11.25 – if we'd missed that we would have had to wait another 50 minutes for a bus to Hommura. We virtually ran off that ferry.
5. The bus costs 100 yen which you pay the driver when you get off. Have the coins ready and just hand it to him as you leave.
6. You'll find the latest up to date Naoshima bus timetable here. Carry a photograph of this with you. The bus does not run at intervals you can easily remember, it's all over the place and, if you're very unlucky and miss one it can sometimes be a long wait until the next.
Useful Facts About the Shuttle Bus
The second bus on Naoshima is the shuttle bus that takes you between the art sites around the Benesse Area. It picks up where the bus drops you off at Tsutsuji-so and then goes up the hill to Benesse House Museum (3 minutes), the Lee Ufan Museum (+1 minute) and Chichu Art Museum (+7 minutes). It's free.
We didn't actually use this one as we realised that if we walked from Tsutsuji-so to Benesse we would walk past the Naoshima pumpkin (the entire reason for visiting Naoshima remember!) plus all the other cool outside exhibits – and, on the way back it was all downhill so it seemed daft waiting.
If you're starting your visit to Benesse at Chichu though it's probably worth catching – it's about a 30-minute walk up a pretty steep hill from the Tsutsuji-so bus stop to Chichu.
Where to Eat on Naoshima?
I admit, we hadn't really thought this bit through when we were planning our day – we just figured we'd find something – if however, a proper meal is important to you, it's important to note that while there are lots of cafes and restaurants on Naoshima, most of the ones in Miyanoura, open for lunch and/or dinner only and are closed to in between
The restaurants that are open outside of traditional lunch hours in Miyanoura include…
Fu-Chan – 1.30pm-9pm
Cafe Ohigya – 10-7pm
Little Plum 9am-10pm (Wed-Sun)
Yuunagi – 11-7pm
Sparky's Coffee 8am-6pm
Because we didn't know this, we ended up in Fu-Chan satisfying a craving for takoyaki (octopus balls).
It's not the poshest looking establishment but the portion was enormous, the food was steaming hot and super filling – and packed with huge octopus pieces.
I wish I'd known about Sparky's though – the cafe is all a bit goth and quirky.
You can also eat at the restaurant at Benesse House, but the menu is quite limited – and on the day we went, the only thing left at just after 2pm when we arrived was Squid Ink Curry.
Whilst admit it would have made a great Instagram photo, it wasn't on my list of top ten things I fancied at that precise moment – and was also a pretty pricey 1250 yen. If you're planning to eat in the museum, go early.
Sadly, I didn't see anywhere selling pumpkin!
Is There a Best Time to Visit Naoshima Island?
It is an island and as such, it can get pretty bleak and cold in the winter. On the bright side though, sunset happens earlier in winter and so, the James Turrell sunset exhibit becomes more feasible to fit into a day trip. There are also fewer people.
Summer temperatures on Naoshima range from 19-32 in June, July and August – and there is little to no shade around the outside exhibits so bring sunscreen or an umbrella for shade.
One time you might want to avoid the island though is during the Triennale. This even happens once every three years and while it brings amazing new art to the island, it also brings crowds.
The next one takes place in 2025. Find exact dates here.
During this time the island will be super busy and you will need to buy a special Triennale pass to visit. If it's your only chance to go then definitely still visit, but if you hate crowds, then just be aware that it's on.
A Few Other Useful Tips…
Wear clean socks and easy to remove shoes for your day on Naoshima Island – you have to take your shoes off to see a lot of the artwork.
By this point in my trip, my feet were destroyed and I was wearing my oldest, stinkiest trainers – my level of mortification in the art houses was immense!!!
You can store luggage on Naoshima – there are coin-operated lockers at Miyonoura Port – a large one costs 500 yen and small one 200.
You can go to the Naoshima Bathhouse with tattoos. This is unusual in Japan where tattoos are traditionally associated with gangs – however, the rules of Naoshima Bath state you can't go in if you are a member of an organised crime group (and therefore have to relevant inkings I guess) – but doesn't specifically ban tattoos per se.
If you see a booklet called the Naoshima Area Map grab it. It gives you everything you need to explore the island – from bus times to restaurant opening hours – in one place.
Naoshima isn't the only art island in Japan. There are two others nearby – Teshima and Inujima.
Find out more on these on the Benesse site – sorry, you'll have to wait until my next trip to Japan to get a post like this for those!
PHEW…
Oh good, you're still here. There's a lot packed in this post, but hopefully, it's all going to be super helpful to ensure you have a great day hunting for the Naoshima pumpkin and all other cool things on the island, So, in case you're wondering…
So How Did Our One Day on Naoshima Go?
We had a brilliant time. The Naoshima pumpkin was everything I hoped it would be – and even though the weather wasn't great, I actually quite liked the moody sky behind it.
I absolutely loved the Art House Projects.
My personal favourites were Kadoya which features a Tatsuo Miyajima piece – he's an artist that uses LED numbers in his work and make sure you ask what the numbers represent as it's really cool.
The Go'o Shrine piece should also absolutely not be missed. In fact, I'd say go there first as it's better done with hardly anyone else around.
I also liked Haisha which has a Statue of Liberty inside – as you do when decorating.
Wandering the streets of Honmura finding the hidden works of art and checking out the shrines and perfect gardens that pop up as you turn corners was brilliant – and, I'd actually would have loved to spend more time wandering around here and the backstreets in Miyanoura.
I wasn't quite as blown away by the Benesse Museum as I thought I was going to be – I like modern art, but some of it was a bit like – okay – why is that art?
The amazing piece by Yukinori Yanagi involving flags of the world and an ant farm made up for it though. Some of the pieces are outside the museum, although viewed from inside, so explore everywhere.
Considering it's one of the prime museums on the island, I was surprised that it actually didn't take us that long to walk around – probably half an hour.
I suppose at this point I should say, I like art, but I am not 'artistic' so I don't linger in museums trying to get inside the head of the artist or anything – my friend Kendall who I was travelling with however is the most creative person I know and so, I was following her lead for how long we needed to stay at things and she sped round it too.
We were in two minds about Chichu before we arrived on the island – so many people had said it was amazing, but we really couldn't get a handle of whether it would be that or, to put it frankly, be a lesson in art w**k. We decided to play this by ear on the day and see if we had time to get there.
We did – but we skipped it anyway.
See, by the time we finished at Benesse we were a bit arted out. I think that is the primary downside of trying to see all of the art in Naoshima in one day, you can need a culture break in order to appreciate everything – but there's just no time.
Skipping Chichu was the right choice on the day but I do have FOMO as the Walter de Maria piece does look amazing.
We also skipped the Bathhouse I would have loved to see this, but wasn't quite so keen on having to see Kendall's butt to do it (and she felt the same about mine)!
This did however, give us more time to play around in the big red pumpkin and the other interactive pieces. I mean come on, when your friend wears a coat that looks like a muppet and she gets the chance to dance around in 'an art' – what would you do?
What to Read Next
Naoshima wasn't the only island we went to on our trip – the next stop after Naoshima was Okunoshima – aka Bunny Island. And if you thought we had fun on Naoshima Island, you need to see what happens on an entire island overrun by rabbits
In fact there's a lot of cool islands in Japan, I've also visited one full of cats close to Fukuoka. If that makes you purr (sorry), then see more about Ainoshima here.
---
Who Writes Differentville?
My name is Helen Foster and I'm a journalist and author living in Sydney.
My travel articles have been published in titles include The Australian, Body & Soul at the Sunday Telegraph, RAC Horizons, Jetstar magazine and more.
I like the weird, the wonderful and anything that makes me jump and down with glee like I'm about three. That's what you'll find here.
Sharing is Caring
Planning a trip to see the Naoshima pumpkin and want to have all the facts you need at your fingertips – then pin this post to one of your Pinterest boards so you'll find it later – or so someone else can. The big pumpkin will always be queue free if you do.
.