I can't think of many places that have actually made me go 'wow' when I first saw them – but the large Buddha statue at Nanzoin Temple in Fukuoka, Japan did – out loud. And then I shut up and just stared at it, unable to believe exactly what I was seeing.
The fact that it left me speechless is even more surprising that when I first planned my trip, seeing the Nanzoin Buddha wasn't on my list of things to do in Fukuoka.
I only went because I freed up a morning and had seen a cool looking photographs of the place, but trust me, when it comes to the Fukuoka attractions, this one has to go top of your to-do list. It's astounding.
Disclosure: Some of my trip to Fukuoka was made possible with assistance by the Japan National Tourist Association – see below for full details. Also, some of the links in this post are affiliate links which mean I earn a small commission if you use them to book. This does not cost you any extra.
Why is the Nanzoin Buddha so Incredible?
The Buddha statue at Nanzoin is believed to be the largest bronze reclining Buddha statue in the world.
That's right, if you've seen other famous Buddha statues, like the one in Wat Paknam in Bangkok and thought that was impressive, this one will knock your socks off.
It's 41 metres long, 11 metres high and weighs a reported 300 tonnes.
That means nothing though until you're standing in front of it and realise that, at 5ft 4, you don't even come up to the big toe on one of its enormous feet.
What makes the sight of this Buddha even more impressive though is that you can't actually see it from the temple grounds.
To reach it you wind past statues and smaller shrines, you climb past trees and through tunnels that trip past waterfalls and eventually, climb up a small staircase and round a corner into a huge open space where the people here to pray or just marvel at this incredible sight look like tiny ants dwarfed by its presence.
And at this point, I defy you not to feel a little bit smaller about your place in the world.
And mutter some kind of expletive!
Woah, I'm Sold…So, Where is Nanzoin Temple?
Now, if you're anything like me, Nanzoin, and maybe even Fukuoka, might not be on your Japanese radar so, let's start with a bit of geography.
Fukuoka is Japan's eighth biggest city and the largest in Fukuoka Prefecture. It's located on the north coast of Kyushu island in Western Japan.
The temple itself is nestled in the hills above the small town of Sasaguri, about 16km outside Fukuoka itself.
How to Get to Nanzoin Temple?
Nanzoin is located a little under a 30-minute easy train ride from Hakata Station in Fukuoka.
Go the main JR Line part of the station and look for the Fukuhoku Yutaka line bound for Nogata (on the day I write this, they go from Platform 8 but do check).
You're getting off at KidoNanzoin –mae, the closest station to Nanzoin Temple – and both local and rapid services stop there.
It costs 370 yen for the one way journey and you don't have to book a seat. You can get here using the JR Pass (don't have one yet? Then click to check out prices or buy one here), buy a normal single ticket or use your Suica or Pasmo cards.
Once you get off at KidoNanzoin-mae, exit the station (there's only one way out) and turn right past the little shops towards a small bridge.
Cross the bridge and walk to the end of the road, then turn right – cross at the pedestrian crossing and walk uphill to the temple grounds.
And this, is where I got a bit lost.
Doh…
You see Nanzoin is a large Buddhist temple and the reclining Buddha isn't the only interesting statue on this site and I ended up heading to the other sights first.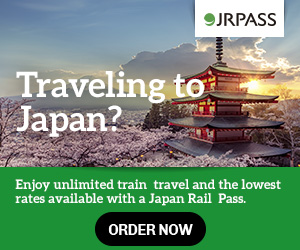 What Else is There at Nanzoin Temple?
Let's start with the giant statue of Fudou Myouou, a Buddhist deity whose fearsome expression is designed to scare people into listening to the teachings of Buddhism. That's him below.
You can't miss him, he looms over you looking menacing as soon as you start climbing the hill.
He's often pictured or sculpted on a rock as his faith in immovable and he carries a rope to bind demons in one hand and a sword to represent wisdom in the other.
At any other temple, this giant scary fella would be the main draw and it kind of sums up quite how big the reclining Buddha is that he's not.
Surrounding him are hundreds of tiny statues that represent Buddha's disciples, many of which have a balanced 100 yen coin set upon them by devotees throughout the day. Check out their faces and postures – like Kyoto's Otagi Nenbutso temple, they're all different.
You can wind around the steep steps and mossy grounds of for ages checking out the tiny figures and a few other cute touches and shrines around the place.
I really would suggest doing it first as I think you'll appreciate it more if you see these small details before you stand in front of the majestic Buddha hiding around the hill.
Didn't Nanzoin Temple Ban Foreign Tourists?
Just after I first published this post a newspaper post went viral talking about how Japan was banning foreign tourists from famous sites because they didn't treat them with respect – and the priest at Nanzoin Temple was quoted in the piece.
However, the headline on some of the pieces was misleading. Nanzoin Temple hasn't banned all foreign tourists, but it has banned groups of foreign tourists.
If you turn up there as a solo traveller or a couple, no-one is going to turn you away – if you're dressed respectfully, don't run around the place like it's a theme park and don't pose for ridiculous instagram pictures – lying in front of the Buddha is not respectful (and selfie sticks are totally banned). Don't do it.
Remember, it's a temple – a place of worship. And yes, it's incredible, but it's also a deeply spiritual sight for many people.
There's a full list of rules that the temple ask you to abide posted outside the train station, read them, stick to them and we'll all still be able to see this amazing sight no matter what passport we carry.
Okay, lecture over…
How Exactly Do You Reach the Nanzoin Buddha?
The Buddha is reached via the low-level wooden building that you pass on your right as you climb up to Fudou Myouou.
Admittedly you might not realise this at first – I didn't, as the signage consists of hand-drawn signs of a lying shape with an arrow pointing to where you need to go and they can be a bit hard to spot.
Once on the right track though you wind up and down steps and past heaps of other interesting sights like koi ponds, an Inari shrine with tiny torii gates and beautiful red lanterns, a tunnel representing the Seven Gods of Fortune – and some seriously cute and quirky statues like this guy – before reaching the main event.
A Few Things to Notice About the Giant Buddha at Nanzoin
Let's start with the fact that it's reclining.
This is quite unusual in Japan where most Buddha statues are pictured upright, reclining Buddha's are more commonly found in Southeast Asia.
However, this statue was built in 1995 to house some of the ashes of Buddha donated by a group of Buddhists in Myanmar to the temple – and it's this Southeast Asian link which might account for its relatively unusual posture.
The reclining posture represents the death of Buddha and the point at which he ascends to Nirvana and in this position, Buddha's hand holds five coloured strings which you may see people holding as they pray – they allow the person to connect to Buddha and absorb his knowledge and wisdom.
People here are often praying for good luck, as it's rumoured that one reason that such a small town in Japan has such an incredible statue was the good fortune of the head priest when it comes to the lottery.
Rumour has it he's won it at least once which is why the building and upkeep of such a magnificent sight isn't a huge hardship – even though there's no entry fee to Nanzoin temple itself.
A lot of folk come here in the hope that his luck will rub off.
I can't quite believe I came all the way to Fukuoka and nearly didn't see this. As I said, don't make the same mistake. Even if you're not really into shrines it's an amazing sight.
What to Read Next
If you want to find some other cool things to do in Fukuoka, have a look at our bigger guide on Fukuoka's most fun attractions and food.
If shrines and temples are your thing, then you might want to try and visit Motonosumi Inari while you're in Fukuoka. This shrine is famous for it's 123 red torii gates that wind their way up a hill. See more about how to get there here.
If you're visiting Osaka you'll notice lots of small smiling statues around the place – these are Billiken and how they came to be there is quite surprising.
---
Who Writes Differentville?
My name is Helen Foster and I'm a journalist and author living in Sydney.
My travel articles have been published in titles including The Australian, Body & Soul at the Sunday Telegraph, RAC Horizons, Jetstar magazine and more.
I like the weird, the wonderful and anything that makes me jump and down with glee like I'm about three. That's what you'll find here.
Sharing is Caring
Disclosure: Some of the links in this post are affiliate links which mean I earn a small commission if you use them to book. This does not cost you any extra.
My flights to Japan on this trip were paid for by the Japan National Tourism Organisation as part of a trip to Western Japan. I, however, paid for my own hotels and set my own itinerary for the Fukuoka part of the trip.
The JNTO also have no input into what I am writing about or what I'm saying about it – we're just as independent and quirky as ever here at Differentville – we just got to go and find a heap of cool stuff we might not have done on our own.
Expect to see posts on all that coming soon so, if you're interested in Western Japan, sign up to get posts as we add them.