They have good dreams in Japan. Dreams that make things. Things like bright scarlet shrines that balance on the edge of craggy windswept clifftops. Scarlet shrines like the outrageously pretty Motonosumi Inari Shrine near Nagato in Western Japan.
It's a must see if you're in the areas of Nagato or Hagi – and something to add to your Western Japan itinerary if you're staying in Fukuoka or Hiroshima. Here's everything you need to know to get there.
Disclosure: Some of the links in this post are affiliate links which mean I earn a small commission if you use them to book. This does not cost you any extra. Also on this trip, I was hosted by the Japan National Tourist Organisation, see below for more details.
The Story of Motonosumi Inari Shrine
One night back in 1955 a local Nagato fisherman fell asleep. Nothing odd about that…but this sleep was different. When he woke up in the morning, he had a mission – to build a shrine on the cliffs where he normally threw out his fishing line.
The mission had come to him in a dream where he'd been commanded by a fox spirit to build a shrine in his honour, effectively saying 'thanks for all the fish'.
Instead of dismissing his nocturnal visitation as a result of eating too much cheese before bed or something, the man set about his task – and the result was Motonosumi Inari.
A shrine that contains 123 bright red torii gates that contrast beautifully with the rocks they sit on, the bright blue sea behind them and the grass of the hills in front. He didn't dream things by half did he!
It winds 100 metres up the hill and you can walk within the gates themselves where little glimpses of pounding waves and precariously perched weather-beaten trees slip out between the bright red poles – can you say 'hellooooo Instagram.'
Unfortunately, so can lots of other people – after CNN named Motonosumi Inari one of Japan's 31 Most Beautiful Places in 2015 numbers of visitors swelled almost overnight from around 30,000 mostly Japanese tourists each year to close to a million.
Go in the week to maximise your chance of getting at least some of the place to yourself.
---
The tubby Billiken statues that you find all over Osaka also came to their creator in a dream – see more about them in out post on the Osaka Billiken.
---
Don't Miss The Prayer Box
While technically you can pray for anything at Motonosumi Inari, it has a few specialist areas that people specifically visit to get some help with – these include business, safety at sea and pregnancy – which is rather wide-ranging I admit.
However, considering it's not that easy to get your prayers answered at Motonosumi, it's probably good to keep things fluid.
The first part of the prayer process at Motonosumi Inari shrine is pretty much the same as shrines all over Japan.
Go the front of the shrine, pull on the rope that hangs in front of it, clap twice, bow twice and then clap twice again while thinking about whatever you would like some extra help with – you can also ponder this as you walk through the gates if that's better for you.
To get the gods to look favourably upon your request though, you then must make an offering – and that's when things get tricky.
For the maximum chance of your prayers being answered at Montonosumi Inari shrine, you need to make a small coin-based donation – into the donation box which is stuck on top of the large torii gate at the top of the shrine about 5-6 metres up in the air.
Getting your wishes granted therefore means having to chuck your chosen coin into the air and hope it gets in – and it's a not the easiest angle.
When I was there about five people were trying and not one of them managed to get their coin to land correctly.
So, maybe don't go to Motonosumi with divine intervention as your sole purpose – maybe just go to see an absolutely stunning shrine on a beautiful clifftop! That you'll be able to manage no problems whatsoever.
Where is Motonosumi Inari Shrine?
It's located in Yamaguchi prefecture on the far west of Honshu island in Japan – this is the main island that holds tourist hotspots like Tokyo and Kyoto although it's a bit tricky to get to in a day from either of those.
You can visit more easily from Hiroshima and Fukuoka – but an even better idea might be to travel into the beautiful area of Western Japan itself for a day or two and spend a bit of time exploring.
The nearest big town to Motonosumi Inari is Nagato a town famous for the hot springs valley that runs just below it. Pretty water, cool cliffs, hot water to soak in, what's not to like – so you might want to stay in one of the hot springs hotels nearby.
Click here to check out all the accommodation options in the area.
Getting to Nagato itself is pretty easy by bullet train and the local Mine line.
But Nagato is also about 70 minutes away from the city of Fukuoka, it's two hours from Hiroshima.
Both journeys pass through Asa which might be another place to bed down for the night if you want to break the journey. All of the bullet train journeys would be covered by your Japan Rail Pass.
Once you get to Nagato, you then have to get to the shrine.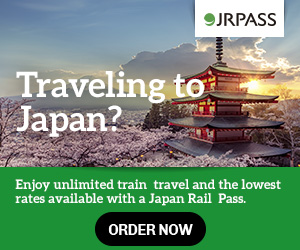 How to Get to Motonosumi Inari Shrine
I admit it's not super easy – I went by car which is the easiest way if you can find yourself a driver – it's only half an hour by road from Nagato. If you can't go by car though it is possible to get there by public transport.
Take the JR San'in line from Nagato-shi station in Nagato to Nagato Furuichi station. It's then a 15-minute taxi ride from here.
You might want to download the Japan Taxi App before you start to make sure you can call the cab – and perhaps ask the driver to wait for you.
There's no buses that I can find information on out here and it's more than an hour and a half walk back to the station.
If this all sounds a bit tricky, you can book some tours from Hiroshima or Fukuoka that will take you to Motonosumi Inari and back in day no organisation required. Hooray!
From Hiroshima
Klook have a tour to Motonosumi Inari that leaves from Hiroshima or that can be picked up at the Shin-Yamaguchi Shinkansen station a bit further west.
This tour also takes you over the Tsuonoshima Bridge, Japan's longest toll-free bridge – and yes, it's a sight to behold.
From Fukuoka
If you're staying in Fukuoka, you can also book a tour from Fukuoka to Motonosumi Inari via Klook.
This also goes over the amazing bridge and stops at Karato Market in Shimonoseki which is known for its amazingly fresh sushi. Check out the lunch I had at one of the restaurants in nearby Kamon Wharf.
What Else is Nearby
The area around the shrine is also known for 'dragon palace geyser' – a blowhole that shoots water about 30m into the air from the cliff if conditions are right. We were there at low tide so it wasn't performing, it's also most active in autumn and winter when the winds are highest.
As I briefly mentioned, you're near to Nagato with five major hot spring areas close to the town. I stayed in one of these on my trip – Nagato Yumoto – which is about a 27-minute train ride from the closest station to Motonosumi Inari.
Here I stayed in what's known as a hot springs hotel. I slept in a tatami mat room, soaked under the trees in the onsite onsen and had a delicious kaiseki dinner just as you get a traditional ryokan, but it was much larger and it didn't have the formality that comes with staying in a small ryokan.
Head over to my Japan blog to read more about my stay and why I thought a hot springs hotel was a great alternative to a ryokan.
If I had you at the words 'hot springs hotel' or 'outside onsen', then click below to find out more details on the hotel including rates and room descriptions – it was called the Yumoto Kanko Hotel Saikyo.
Some other amazing sights in the area include the Higashi Ushirobata Tanada – a collected of terraced rice fields with beautiful blue sea behind them.
The coastline around the shrine is also full of craggy rocks and crashing waves and nearby Omijima Island looks particularly windswept and remote.
Unfortunately, I only had one night in the area and so didn't have time to explore either place but I really wish I had had the chance.
If you go, come back and tell me all about it! And bring pictures.
---
Who Writes Differentville?
My name is Helen Foster and I'm a journalist and author living in Sydney.
My travel articles have been published in titles including The Australian, Body & Soul at the Sunday Telegraph, RAC Horizons, Jetstar magazine and more.
I like the weird, the wonderful and anything that makes me jump and down with glee like I'm about three. That's what you'll find here.
Disclosure: Some of the links in this post are affiliate links which mean I earn a small commission if you use them to book. This does not cost you any extra.
My trip to Western Japan was hosted by the Japan National Tourism Organisation who paid for my flights and hotel and organised the itinerary. However, they have not had any input into what I write about, or what I say about it, all opinions and excitement are mine, mine, mine.
Sharing is Caring