Billiken are little fat tummied, smiley statues that you'll find all over Osaka – but why? That's what we wanted to know too – so we found out.
There's a lot of odd things dotted around Osaka.
You'll find giant pufferfish hanging in the sky, gold turtles climbing up the sides of a building, huge lobster decorating the ceiling of the market – there's even a giant metal wasp if you know where to look, but among all these fabulous things is one giant figure that you see all over the fun Shinsekai district.
Often gold, generally tubby of tummy, always smiling – and with very large feet, I'm talking about the Billiken.
Exactly what is a Billiken?
Billiken is a 'god' – specifically, he's the 'God of the Way things Ought to Be' – a phrase you'll often notice written on the plinth upon which they sit. People pray at him for good fortune in business, school and love.
With that in mind, you might think he had an ancient history in Japan like the household objects turned mischievous spirits that you'll find on Yokai Street in Kyoto or the pickpocketing, large-scrotumed tanuki that are so important to Japanese myth and legend that they have an entire road dedicated to them in Tokyo – but no.
Not only have Billiken only been in Japan since the early 1900s, but they were actually invented in the United States by an American artist after she dreamt about the creature (there's a lot of cool ideas that come from dreams in Japan – here's another one).
Dolls and charms were made of the smiling fellow, his image was even trademarked in the US and he's even the mascot of a university over there.
So, how did a drawing of an American creature end up being dotted, and prayed to all over Osaka?
A Bit of Billiken Background
It's said that the first Billiken came to Osaka as an exhibit representing America in the Luna Park theme park that was built in Shinsekai in the early 1900s.
When that was knocked down, the statue went missing and the most famous Billiken in Osaka title went to its replacement, a wooden Billiken found at the top of the Tsuntenkaku tower – the 103-metre high tower that's the icon of the Shinsekai district of Osaka.
Due to the belief that rubbing his feet helps boost your luck, this statue gets replaced fairly often but he's still up there surveying the city below.
How they went from amusement park resident to mini deities is the missing part of the puzzle, but I'm guessing they look like they should be religious so, maybe people just assumed they were and things escalated from there!
Whatever the story, you'll now find the little fat fellas everywhere – particularly in the Shinsekai area of Osaka.
You'll find them wearing little outfits, waving food to tempt you into restaurants – there's even a Billiken shrine you can visit – which oddly has probably the smallest Billiken statue in the neighbourhood!
The Billiken franchise has also expanded out from statues – you can buy tiny Billiken cakes to nibble on as you wander around Shinsekai and even the shutter artists are adding them to their work.
Most of the time when you see a Billiken though, it's outside a restaurant – and, chances are that restaurant serves Kushikatsu – basically deep-fried food on sticks that is the must-eat dish in Shinsekai.
So, there you have it – the strange story of the Shinsekai Billiken – and while spotting them in their myriad of outfits is one of my favourite things to do in Shinsekai, you might be wondering what else is there to do down there?
A Quick Guide to Shinsekai
Shinsekai is a district in Osaka's South.
It was the old entertainment district and even now it's packed with some of its original bars and restaurants.
The first time I went to Osaka in 2011, Shinsekai had a bit of a sketchy reputation, and tour books were telling you to be cautious there. I spent the whole morning, looking over my shoulder.
That reputation was mostly based on the fact that Shinsekai had a large yakuza presence in days gone by, but it lives on even today because the nearby area of Nishinari is where many of Osaka's homeless sleep, plus, there's also a nearby red-light district neither of which is perhaps what you're expecting considering Japan's pristine, safe reputation.
Things are changing with cheap hotels opening up in the area, but, like anywhere up and coming, it's good to keep your wits about you and be careful exactly where you wander, particularly after dark.
To be honest though, I think the sights of Shinsekai with all its bright colours, fun statues and iconic tower lend themselves better to daytime viewing anyway. And in day time it's thriving. There are people everywhere and I had no concerns wandering around alone.
I only got to spend a few hours in Shinsekai on my last trip but I'm heading back to Osaka properly on my next one so expect a full, personal guide to the area when I return but until then a quick list of the area highlights include…
The Tsutenkaku Tower
It's not the tallest building in Osaka – that's the 300m high Abeno Harukas building, but it is the tall place with the most history. It's open every day 9am to 9pm – don't forget to say hi to the Billiken and give his feet a rub.
Eating Food on Sticks
You can't go to Shinsekai without eating something deep-fried on a stick – queues form outside the most popular restaurants including the chain Daruma which, instead of a Billiken, has a giant plastic statue of a grumpy chef outside (find out why in this guide to Osaka must eats on Differentville's sister blog Japlanease).
All sorts of goodies can be consumed as kushikatsu, but remember the number one rule.
Never double dip your skewer in the sauce – if you want to add more once you've taken a bite, you'll find a spoon or a cabbage leaf on your plate to use to ladle it out.
Spaworld
Describing itself as an onsen theme park, this spa complex offers both traditional Japanese onsen and baths from around the world so you'll also find a Finnish sauna, a bath inspired by the Trevi fountain and more.
Each zone is limited to one gender at a time and they divide things by month – so, if you want to go to the Japanese facilities check their website to make sure whether they are allocated for men or women during the time of your stay (this means couples won't both get the chance to go in a Japanese bath on one visit).
And no, even though they describe themselves as a spa theme park you can't go into Spaworld with tattoos.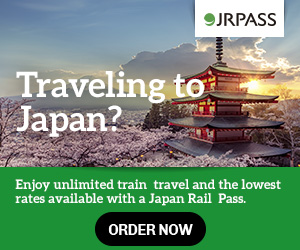 Gacha Gacha
Shinsekai is also one of the best places in Osaka to find Gachapon toys – I spent an absolute fortune.
Perhaps in honour of its slightly sketchy past, it's also the only place I have seen adult-only Gachapon with little model boobs and other exciting adult-themed goodies inside!
Den Den town which is the otaku centre of Osaka is another good place to get your Gachapon fix.
So there you have it – the answer to what exactly is a Billiken and the best place to find a whole load of them. I hope you have fun finding them – there's a few others I haven't shown pictures of here to spot as well. I haven't spoiled all the surprises.
---
Who Writes Differentville?
My name is Helen Foster and I'm a journalist and author living in Sydney.
My travel articles have been published in titles including The Australian, Body & Soul at the Sunday Telegraph, RAC Horizons, Jetstar magazine and more.
I like the weird, the wonderful and anything that makes me jump and down with glee like I'm about three. That's what you'll find here.
Sharing is Caring
If you liked this piece explaining about Billiken in Osaka, please share it on social media so other people can find out about the smiling statues too.