Located about 60 miles south of Kuala Lumpur in Malaysia, the city of Klang is an easy day trip from KL. It's also a stop off for many cruise ships – and remarkably satisfying to say, but the big question is what to do in Klang once you get there? Here are some answers…
Image Hafiz Mustapha/Depositphotos.com
Disclosure: Some of the links in this post are affiliate links which mean I earn a small commission if you use them to book. This does not cost you any extra.
My First Experience of Klang
I have no idea what is currently happening.
It's just before lunchtime and I'm sitting on a blue plastic chair in a ramshackle restaurant in a backstreet in Klang.
I've just ordered food but the waitress has brought my cutlery over in a bowl and is now pouring tea from the teapot on it!
She then refills my teapot, leaves the cutlery soaking in the bowl – grins and walks away.
I'm obviously looking very confused as one of the old uncles sipping his own tea at the next table tells me 'clean' – and then I understand.
Good tea in Chinese culture (and Malaysia has a strong Chinese culture) doesn't come from the first water poured on the leaves. Instead, you pour a little water on them, rinse them and throw the first pour away – however, that tea is boiling – and so, pouring it over the cutlery sterilises it from any germs that might have been leftover from washing it in the local water.
Who knew.
I'm not sure whether they do it for every customer or just the Westerners, but it was not the only surprise I was going to find on my day trip to Klang.
The cool little town surprised me at every turn.
So, if you're wondering whether you should go to Klang on a day trip from KL. If you're not sure if it's worth visiting the town as an excursion if you come into the cruise centre at nearby Port Klang. Of, if you're pretty sure you fancy a day trip and want to know what places to visit in Klang when you get there – try out our one day guide.
Fun Things to do in Klang
There isn't one big attraction in Klang – there's no shiny Petronas Towers looming over the city like there is in Kuala Lumpur, instead, it's a great place to wander around looking at the old faded buildings, poking your noses in the small local shops and trying the local food.
Which is pretty much what we did.
So with that in mind, here's what we did during our one day in Klang (plus three things we didn't have time for but that you might want to add to your 'where to go in Klang' list.)
Eat Bak Kut Teh
Bak Kut Teh is probably the most famous local dish in Klang. This was what I had ordered for lunch before my strange tea experience.
It's not the most photogenic dish as you'll see below, but omg, it was delicious.
Bak Kut Teh is basically a pork stew seasoned with spices including cinnamon and star anise. The broth is clear but incredibly rich in flavour and the meat just falls off the bone.
We ordered ours from a shop close to Klang station called Teck Teh Bak Kut Teh at 27 Jalan Stesen.
This restaurant has apparently been around for over 50 years and is still using the traditional stew recipe from way back when.
It looks like it has a lot of regulars And they couldn't have been more welcoming.
The staff were smiley, even though we had no idea what we were ordering, and once they realised, the uncles at the table next door helped us get our meat on the bone, explained what was going on with the tea and had a bit of a chat about why we were in Klang.
The bathroom does need a little bit of attention though so you might want to skip that bit!
But, as you'll see shortly, this helped add another surprise to our Klang trip.
Food Lovers Tour Suggestion
If you like Bak Kut Teh, you might want to check out one of the local tours, the Klang Heritage Walking Tour – and Cooking Class which includes a walk around Klang and then, the opportunity to learn how to make Bak Kut Teh yourself with a local chef.
Go See the Bird Art
Directly opposite the restaurant was a car park that had a wall of cool street art with birds on – but, it was only once I turned down another alley just behind it, I realised that birds are actually a theme for street art in Klang.
The alley behind the car park (next to a shop called Sephan Awake) is lined with different bird paintings.
Apparently, Klang is home to a quite sizeable black crow community and so the city commissioned a whole load of paintings to honour them.
And yes, they also do, occasionally, have an event where people shoot them to keep the numbers down, but honestly, they love them really.
There's also another cool piece of street art on Jalan Stesen just by the Biz Hotel. Look for the phone box.
Oh, and if street art is your thing, and you're also going to Penang on your Malaysia trip, you might want to nip over to this piece on Penang's lesser-known street art – there are some seriously cool murals to be found.
Check Out the Jewels
After Mr Differentville had been in the restaurant bathroom and come out muttering 'you do not want to go in there', I was in a bit of a predicament – I needed to go in there!!
I'd drunk a lot of that tea the nice lady made me.
Things were just getting a bit desperate when we passed a museum. Museums have bathrooms and, as this one also had no entrance fee, I decided to go in and find it.
It felt rude just to go in and use the bathroom though and so we also went in for a wander – and what was inside was one of the other fantastic surprises Klang had in store.
The museum in question is the Sultan Abdul Aziz Royal Gallery.
It highlights the history and lifestyle of Sultan Salahuddin Abdul Aziz Shah who was Sultan of Selangor for 39 years and King of Malaysia for two – and it is full of THE most amazing jewels, trinkets and treasures.
I'm not really a museum person but this was definitely a great place to visit.
If you only do one thing in Klang from this list, go to the Royal Gallery.
It's open Tuesday to Sunday from 10am to 5pm.
Sadly, you aren't allowed to take photos and so I can't show you any pictures.
Take the Heritage Walk
If you're in Klang on a Saturday, a guided walk departs from the Royal Gallery at 9-9.15 showing you some of the history of Klang.
It takes about 2.5 hours.
It starts at the Royal Gallery and includes nine historic buildings in and around Klang City centre.
These include the former Chartered Bank Building, the Royal Klang Club, Klang Convent School, the Tengku Kelana Indian Muslim Mosque and the Sri Nagara Thendayuthapani Temple.
You need to pre-register for the walk the week before your visit. Find the details on how to do that here.
If you're not there at the weekend, you can find a list of the buildings via the link above and map them on google maps.
Most of them have plaques outside telling you their history and why they are so important.
Meet the Fortune-Telling Parrot
This was my whole reason for wanting to go to Klang.
The parrot works from the Little India section of Klang.
Apparently, he will draw a card from a tarot pack which his helper will then interpret for you.
Sadly, the day I went his human helper was not in the mood to talk to me and totally ignored me when I appeared, so I'm not sure exactly what news the feathery one would have conveyed.
You might be luckier.
The good news is that Klang's Little India is still a fun place to wander for half an hour, parrot fortunes or no parrot fortunes.
You'll find it on Jalan Tengku Kelana.
Little India Tour Suggestion
If you want to learn more about Klang's Little India, you might want to check out this tour of the area.
It actually picks you up from Subang Jaya which is just outside of Klang (although you might be able to arrange to meet them in Klang).
It shows you around Little India, and many of the other ideas in this post. I also note that Bird Fortune Telling fees are not included in the price, which leads me to believe, that our feathered friend here is on the itinerary.
See the Cute Fire Station
This is one of the buildings on the Heritage Tour, but if you're not going on that, then at least make a stop at this cute fire station.
The original building has been here since the 1890s but it's had a bit of a red and white makeover and looks super cute.
There is also a fire museum inside.
Walk Across the Old Bridge.
Klang is actually quite a large city and the north of the town is located on the other side of the Klang River.
Due to half the roads in Klang being dug up when we visited we got a bit lost and walked onto the Tengku Kelana bridge from which you at least get a good view of the gold-domed Masjid Bandar Diraja Klang.
Image: Hafiz Mustapha/Depositphotos.com
I was however supposed to be on the old double-decker Kota Bridge from which the view is even better!
I didn't shoot the picture above (mine was rubbish) but I'm pretty sure it was shot from the Kota Bridge.
Plus, it's a cool old bridge – by the time you read this all the work should be done and you might find it a bit easier to navigate around.
At this point, our Klang day trip was over – it was my birthday and I needed to get back to Kuala Lumpur for a night at the Helipad Bar, but, if I'd had more time, there were three other things to do in Klang I wanted to check out – and that you also might want to try.
Visit the Snake Temple
The Tian Hock Kung Temple is a temple slightly outside of the old part of Klang and famous for its decorative snake sculptures.
A few live snakes also live in the temple, but unlike the snake temple we visited in Penang a few days later, they aren't just snoozing around the place but in cages.
If you want to visit Tian Hock Kung, you'll need to take a taxi or a Grab as it's not that easy to get to, and a bit too far to walk from Klang centre – that's one reason why it went off my list of where to go in Klang.
That, and I knew I was going to the other snake temple in Penang later that week – and if you want to see pics of that, check out this post
---
If you think this sounds fun, but you don't want to have to find this post again to do it, why not check out the tour we made with FreeApps. Just click on the picture below and it'll take you to the tour.
---
Visit the Blue Tears
If you don't have to hurry back to Kuala Lumpur, this might be a great way to extend your Klang Day Trip into the early evening
Close to Klang is the habitat of some fireflies, and river of blue algae that glows at night.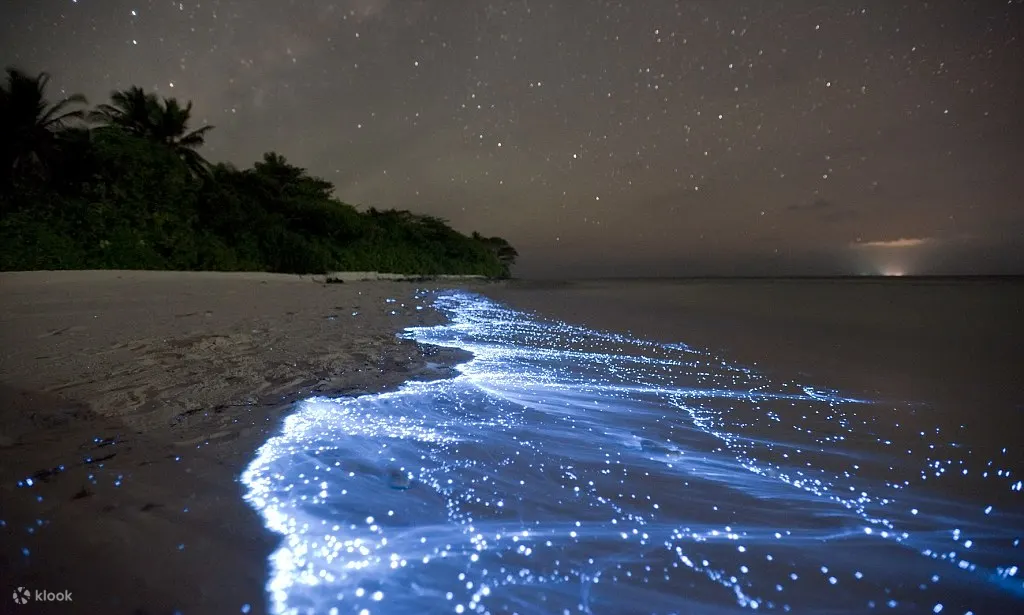 I didn't get the chance to check this out as I had to be back in KL, but, if you can stay later, then you can book a tour that includes a walk around Klang followed by a trip to the fireflies and the bioluminesence.
Take a trip to Crab Island
Officially known as Pulau Ketam, this traditional island is a short train, then ferry ride away from Klang.
All cute fishing boats and houses on stilts, my original plan was to go here before going to Klang but I soon discovered if you have to be back in KL for late afternoon (and don't get up at 6am like you planned!) this might have to be an either/or outing as combining the trains from Kuala Lumpur with the ferries to the island – and getting back to Klang to explore – means a long day out.
If you want to try it though, You can also book a day trip from KL to Palau Ketam. I might try that next time I go as I really want to see it.
Click here to check out the tour.
Or, if you're a more independent soul. you can do the journey yourself.
You get the train to the last stop on the Kommuter Line at Pelabuhan Klang (see the link to the timetable below). You'll find the port over the road from the station and there are two ferry companies going to the island.
Here's the timetable for boats to Palau Ketam on Ali Baba Cruises.
This website gives the other ferry timetable.
I'm not sure what that company is called, but it seems pretty easy to navigate the port once you get there – it's not huge.
---
Where is Klang? And How Do You Get There
Getting to Klang From Kuala Lumpur
As I said, it's a short day trip south of Kuala Lumpur. It's easily reached by the KTM Kommuter train from KL Sentral station in about 90 minutes, and Klang station is walking distance from pretty much everything in this day trip.
The trains run fairly regularly and you can check out the timetable here.
---
If you are going to Kuala Lumpur you'll want to read out guide to fun and unusual things to do in KL before you get there.
---
Getting to Klang from Your Cruise Ship
The other way you might come to Klang is via a cruise ship docked at Port Klang.
Port Klang is the port used when cruises come into Kuala Lumpur and most people take either an excursion or self-guided trip into KL itself (if you would like to do that you can book a Port Klang to KL transfer in advance here).
If you've already been to Kuala Lumpur or, don't really want to go all that way, Klang makes a good short side trip. From what I can gather, there's not a lot of things to do in Port Klang itself.
To get to Klang from the cruise ship terminal you'll need to get a taxi from the Bousted Cruise Centre where you will dock to Pelabuhan Klang station (a 20-minute drive) from which it's just six stops, or 20 minutes to Klang. You could also take a cab the whole way to Klang. It's about 40 minutes drive from the Boustead cruise centre.
So there you have it. A few suggestions of what to do in Klang. There are probably a few more attractions in the part of town over the other side of the river, but if you only have one day, this will be enough to keep you busy.
And if that parrot does decide to do any work, please let me know what he says.
---
Who Writes Differentville?
My name is Helen Foster and I'm a journalist and author living in Sydney.
My travel articles have been published in titles including The Australian, Body & Soul at the Sunday Telegraph, RAC Horizons, Jetstar magazine and more.
I like the weird, the wonderful and anything that makes me jump and down with glee like I'm about three. That's what you'll find here.
Sharing is Caring
If you like this article about things to do in Klang, please share it on social media so other folks can read it too.